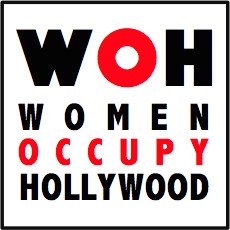 This week WOH supports two films by two women directors from two different countries, one is PARCHED by the Indian director LEENA YADAV and the other is BANG GANG by the French director EVA HUSSON.
In both films sexuality is the key, or one of the main keys, to knowing oneself and achieving a kind of freedom. Women free themselves by liberating their own sexuality. Young people approach their fear through extenuating sexual activity. That was true in the 70's and it is still true now in these two women's films.
The two directors are from different backgrounds and are different ages, but both decided to tell stories in which their protagonists, through sexuality and sex, succeed in moving forward with their lives with a renewed awareness of themselves and of the world around them.
For both films I can use the same adjectives: Beautiful – Painful – Feminist – Liberating – Spirited – Provocative – Fearless – Bold. 
SEX in the VILLAGE meets THELMA and LOUISE
In PARCHED we follow the lives of three women and a young girl whose destinies are marked. Under the scrutiny of the men and the vigilance of the patriarchal board of elderlies who make decisions about their lives and their futures, the women are obliged to accept the rules, to respect the norms and follow the traditions of the small village in India where they were born, where they live and where they will probably die.
Each one of them carries the weight of their own story. The widow, the infertile bride, the prostitute and the young girl destined to marry to someone she doesn't love are all characters from classic literature. They are archetypes that have just one destiny. They can't change their paths. They can't liberate themselves. This would be the scenario in a film of men. But in Yadav's irreverent and bold imagination, even though the four women go through the most painful humiliations, they never submit. They find a sacred strength in their friendship and sorority that deepens their capacity to tolerate the violence to which they are continually subjected.
The women help each other, love each other and touch each other. They touch each other to express the love and the joy of being together and not being alone. Through touch the women survive and develop an intimate confidence and trust that will bring them to more and more important discoveries about their own sexuality. The women help each other in that discovery and in doing so they establish deep ties that will lead them to free themselves from the tyranny of the men of the village, from the dead husband, the present husband, the future husband and the present pimp.
In the exploration of their sexuality they free themselves and they are ready to leave the past and the old behind to fly toward the new and unknown with renewed innocence and strength.
In this film there is one of the most beautiful sex/love scenes I've ever seen in my life where a man and a woman make love in a way that I always thought people should make love when it is called for in a film. The male, called the Mystic Lover, is there for her and with her. The two are present with each other and the act of love is not just a sequence of movements and sounds but an explosion of energy and a celebration of the art of touch.
In abandoning all fear, the power of touch becomes not only the key to happiness but also the key to freedom.
The power of touch is a must. Something essential in our own lives. Every day.
Thank you Leena for this irreverent, feminist, joyous, luminous, revolutionary and universal portrait of women. All of us will recognize ourselves. Your ability as a director and storyteller is amazing and your capacity to balance the tragedy of those destinies with lightness, desire and playfulness make this a film capable of breaking down every wall.
When I saw PARCHED I felt the same thrill I felt a long time ago when I saw Thelma and Louise. The same rebellious energy inhabited me and exploded at a certain moment in a scream of freedom. I felt like one of them, I felt like all of them.
A huge shoutout to the immense talent of the actresses of the film: Tannishtha Chatterjee, Radhika Apte, Surveen Chawla and Lehar Khan and to the splendid photography of Russel Carpenter.
I met Leena Yadav  in Los Angeles at the Indian Film Festival, #IFFLA2016, in April where PARCHED was part of a wonderful selection of films by women. 
We've seen each other several times since then and here is our conversation:
About Leena Yadav:
Born to an Indian Army General in Madhya Pradesh, she graduated with Economics honors from Lady Shri Ram College for Women, Delhi. She got a degree in Mass Communications from Sophia College, Mumbai.
While she was still studying for her diploma in Mass Communications, she became captivated by and then studied film editing, which provided the perfect training for directing and script writing. While working as an editor for ads, corporate shows, and television serials, she got an offer to direct the TV show This Week That Year for Star Movies. Success in that arena lead to her own production house with Nikhil Kapoor, where she produced and directed shows for Star Bestsellers.
As a TV director, she directed both fiction and non-fiction for almost 12 years; some of the TV shows she directed were single episodes for Star Bestsellers, Say Na Something to Anupam Uncle, Sanjeevani, and many more.
As a main-stream film director, her directorial debut was Shabd, a film with an unconventional storyline, which was released in 2005. Teen Patti was her second film after a gap of five years. Parched is her latest film starring Tannishtha Chatterjee, Radhika Apte, Surveen Chawla and Adil Hussain.
Her husband Aseem Bajaj, an Indian Cinematographer well known for his poetic imagery on films like Hazaron Khwahishen Aisi, Shabd, Teen Patti, U Me Aur Hum and Chameli to name a few, is the main producer of the film.
Theatrical Release Schedule – Friday, June 17 to Thursday, June 23, 2016:
Los Angeles – Laemmle Music Hall
San Jose – Camera 12 Cinema
Fremont – Cine Grand
New York – AMC Empire 25
By Ivana Massetti – Women Occupy Hollywood Founder