M

ay 15th

2019

JOIN US!

Wed, May 15, 2019

6:30 PM – 8:30 PM PDT

NOMI PRINS, Best Selling Author, Renowned Financial Journalist, Former Wall Street Executive/International Investment Banker, Governmental Economic Advisor, and Television Personality will be hosting the second in her monthly series of issue specific 'Know Money' salons at ESArtists in Los Angeles.

This forum, designed exclusively for WOMEN, will address global topics ranging from the economy, to the political environment, to personal finance, business, and everything in between.

Reservations are required for each salon. ENTRY AT THE DOOR IS NOT GUARANTEED.
The pre-paid reservation cost, which includes the 2 hour salon, a delicious glass of wine from Feros Ferio Winery and hors d'oeuvres is $65. Feros Feros Wine will also be available throughout the event for purchase.

PLEASE NOTE:
• DOORS OPEN AT 6:00pm
• NOMI'S PRESENTATION BEGINS AT 7:00pm
The structure of each salon will generally follow this format:
• Meet & Greet (wine, hors d'oeuvres etc) (6:30-7:00pm)
• Nomi's ' Know Money' Presentation (7:00pm)
• Q & A and discussion
• Wrap up – complete at 8:30

Nomi's salon is designed to be a relaxed, informative, welcoming, open, and empowering space. It will be one in which those present can gain knowledge and insight about the topics covered. Participants are encouraged to share their knowledge on business, local, state, national, and global concerns.
To register and pre-pay, please click here:

https://www.eventbrite.com/e/nomi-prins-know-money-salon-la-may-2019-tickets-60234588275?utm-medium=discovery&utm-campaign=social&utm-content=attendeeshare&aff=esfb&utm-source=fb&utm-term=listing&fbclid=IwAR09Qv89NeNiW-OmLA4514OSncovbpAwtD9B-niV446JlnFm7B5K7mCY0vk

Each event is limited to approximately 35 people so please reserve your space at your earliest convenience.
There are 5 free tickets available for current full-time students. To obtain one of these, please email nomiknowsmoney@gmail.com with a copy of your student ID.
Additionally, there is free parking available for attendees. Entrance to the event is through the doors on the parking lot/east side of the building.

#Author #FinancialJournalist #WallStreetInvestmentBanker #Bank #Money #women #womenoccupyhollywood

***
M

AY 4th

2019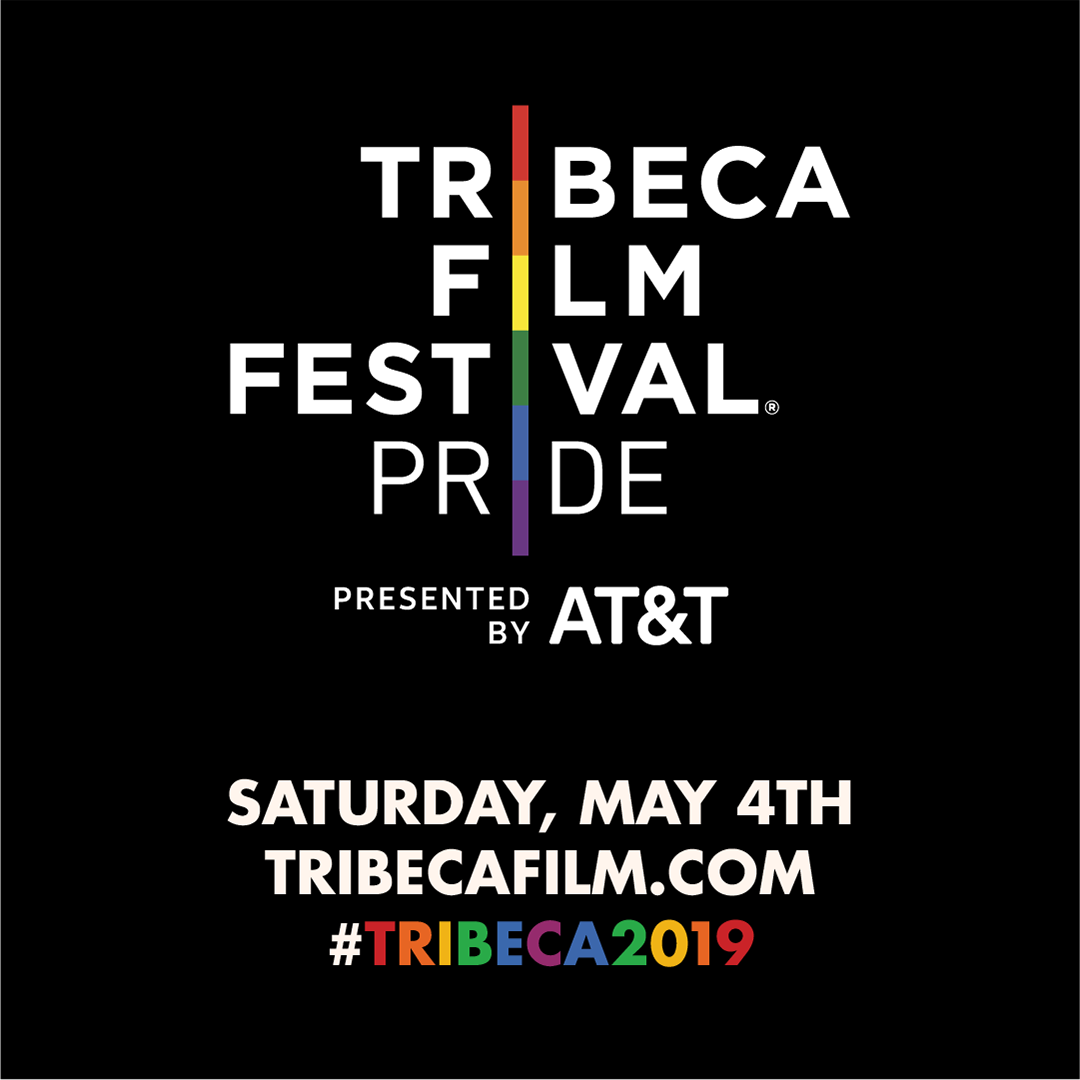 Join LGBTQ+ luminaries Neil Patrick Harris, John Cameron Mitchell, Larry Kramer, Asia Kate Dillon and more at a special day-long festival celebrating queer artists, with the world premiere of Wig, followed by a drag show that promises to slay.
The Tribeca Film Festival continues its tradition of celebrating activism in the arts with Tribeca Celebrates Pride, a day-of LGBTQ+ visibility to mark the 50th anniversary of the Stonewall riots and celebrate the representation across the festival.
Join us on Saturday May 4th at #Tribeca2019 https://bit.ly/2uTCEBV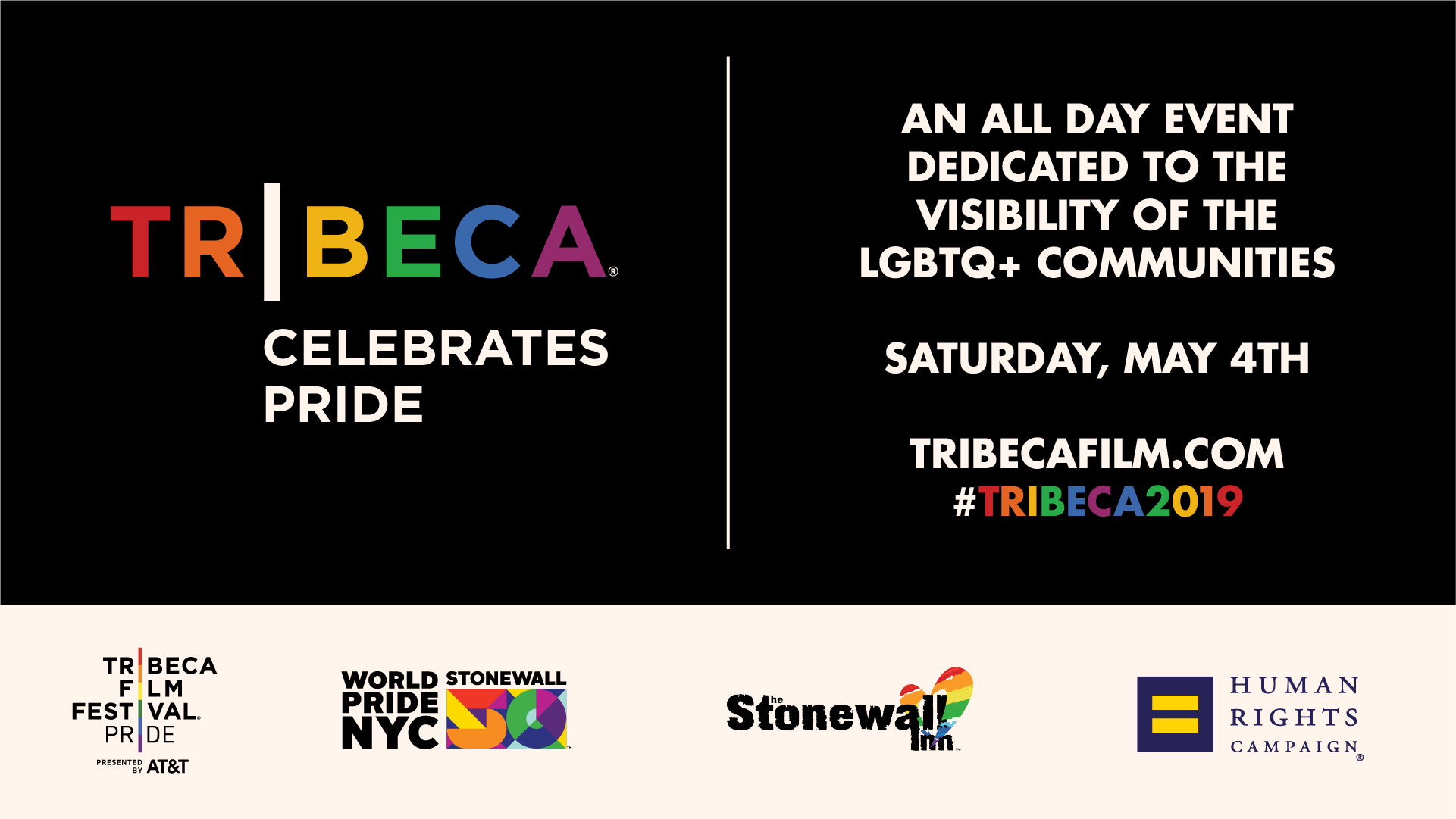 * * *
J

une 8 – 9

2019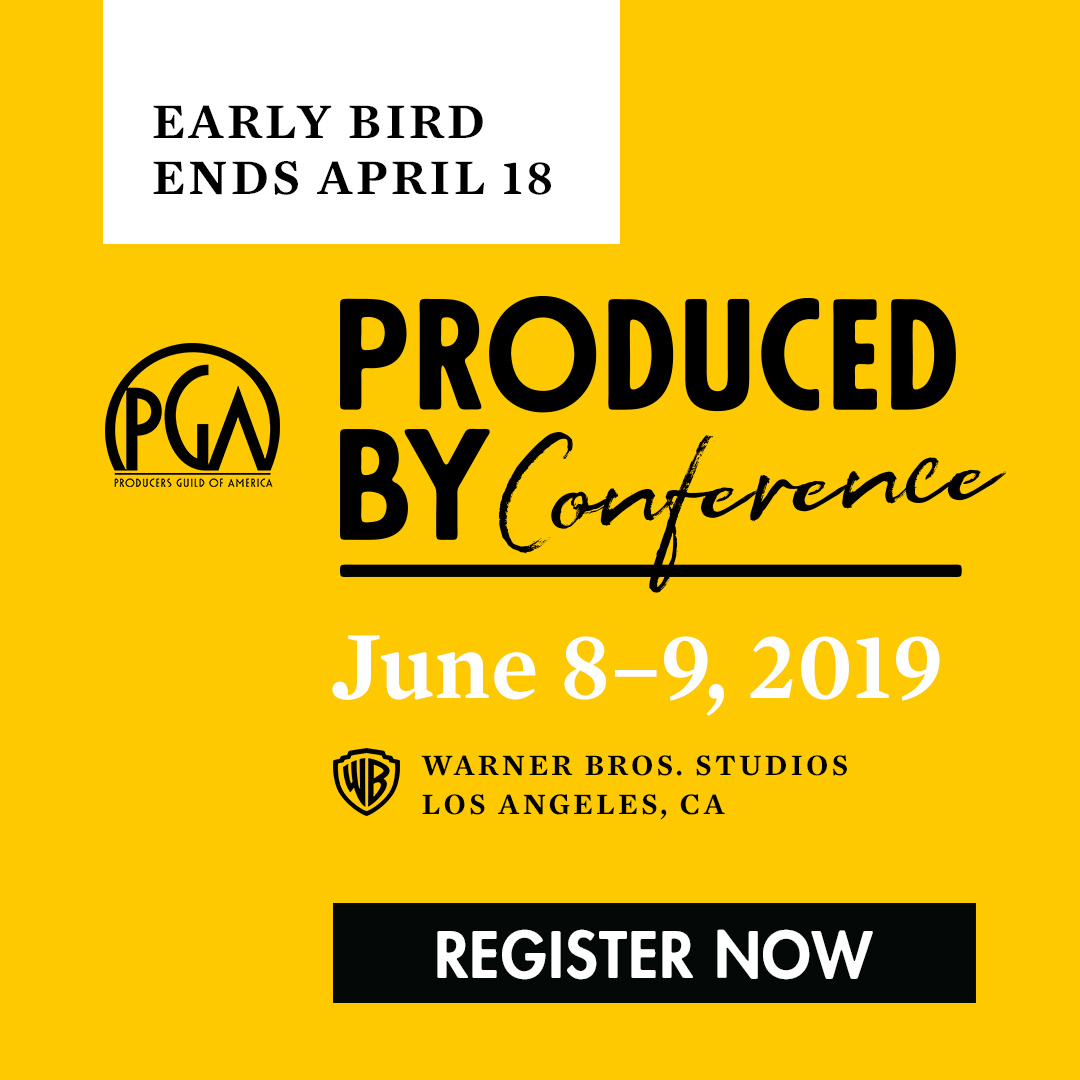 Early Bird promotion ends TODAY April 18th
Take your producing career to the next level.
Learn from the best in the business.
Discover new technologies.
Network with senior producers and development executives.  
JOIN WOH @ Produced By Conference http://www.producedbyconference.com
Women Occupy Hollywood SUBSCRIBERS have a special DISCOUNT for the Produced By Conference 
Look for the info in our NEWSLETTER. For our newsletter Subscribe at womenoccupyhollywood.com
Hurry up! Early Bird promotion ends April 18th
REGISTRATION PAGE LINK: http://bit.ly/registerproducedby
#producedby2019
M

arch 22nd 

2019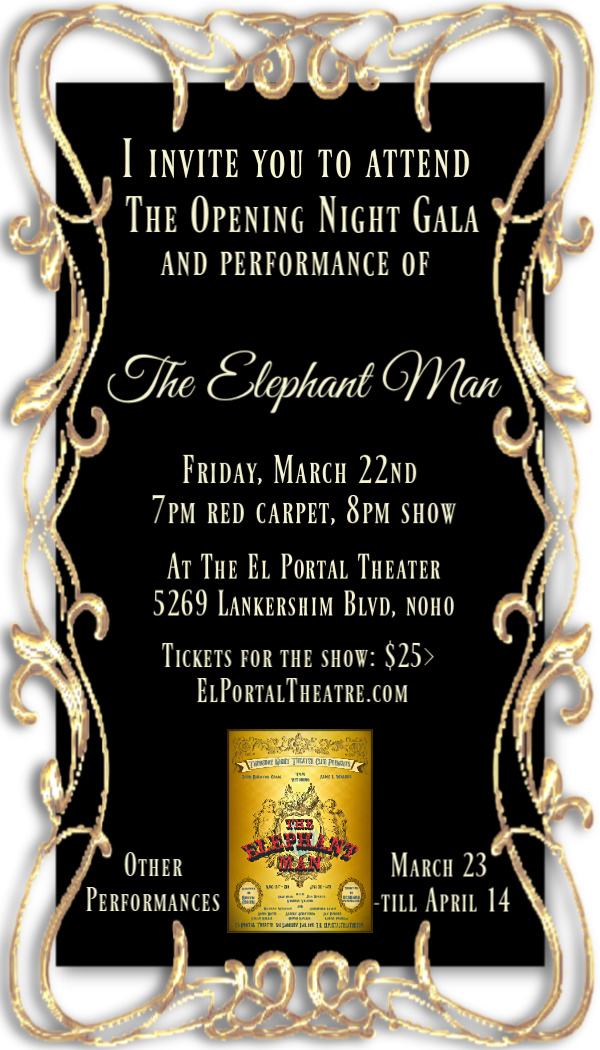 JOIN US for the Opening Night Gala of the play THE ELEPHANT MAN directed by actress/director Robyn Cohen at THE EL PORTAL THEATER. Get your Ticket at ElPortalTheatre.com. SEE YOU THERE.
Thursday Night Theater Club presents:
The Elephant Man, by Bernard Pomerance
At the El Portal Theatre, 5269 Lankershim Blvd., Noho
Starring John Ralston Craig. Tom Vitorino, Alice L. Wallker & Jon Sperry
Performances – Opening Week
Thursday March 21 @ 8:00 PM – Preview
Friday March 22 @ 8:00 PM – Gala & Opening Night
Saturday March 23 @ 8:00 PM
Thursday April 4 @ 8:00 PM *
Friday April 5 @ 8:00 PM *
Saturday April 6 @ 8:00 PM
Thursday April 11 @ 8:00 PM *
Friday April 12 @ 8:00 PM *
Saturday April 13 @ 8:00 PM
Sunday April 14 @ 3:00 PM
* Select dates have an accompanying reception after the show; includes private viewing of 1 of 4 existing replicas of John Merrick's skeleton, authentic correspondence between Dr. Treves, and other authentic artifacts.  Price: $20.
Reception tickets available for the following performance dates:
Tickets can be purchased at :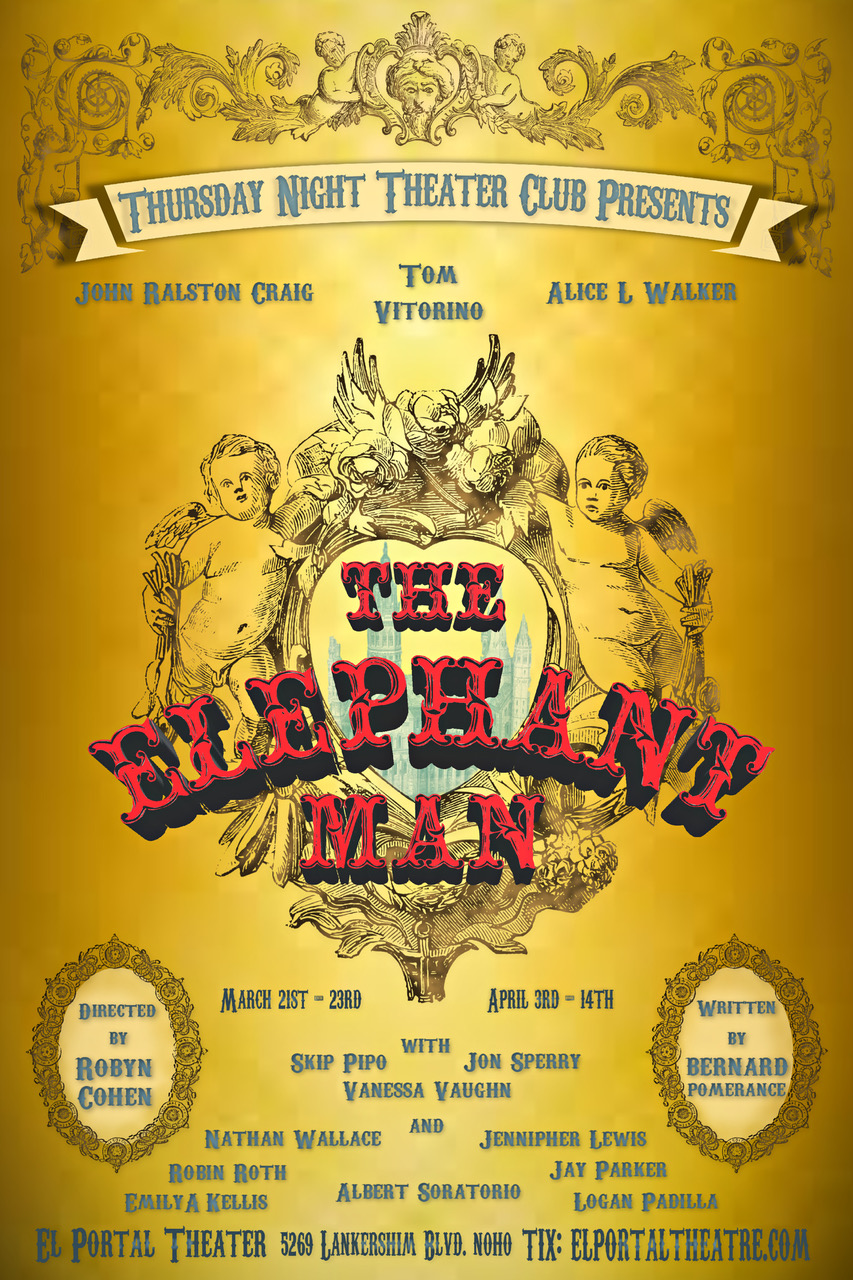 ***

M

arch 13th

2019
A Letter from TRAILBLAZER Thinker & Best-Selling Author NOMI PRINS 
Hi Women Occupy Hollywood,
There are only a few spots left for the launch event of my monthly "Know Money" Salon for

Women

in LA on

March 13th

at

ESArtists

, 6363 Wilshire Blvd, 6th FL.  Free parking is available.
Each month, I'll be leading a

salon

that will include a meet-and-greet wine tasting and cheese period, an issue-specific economy and money-related talk, and discussion. There will be special guest speakers along the way.
The first

"Know Money"

salon in LA will provide an overview of upcoming topics and delve into optimizing personal and business banking and financing activities in today's volatile environment.
It would be awesome to see you there.  In addition to the regular tickets, there will be five free ones available for full-time students.  
M

arch 9th

2019
2019 SheroCon pop-up comic-con is a one-day celebration of Women in comics – conceived by female-centered multimedia company Shero Comics. To celebrate Women's History Month they have partnered with Westfield Culver City to host this FREE family-friendly event that will feature some of the biggest Sheroes in comics today. You can RSVP for free tickets here www.sherocon.eventbrite.com and follow them at Shero Comics for updates! See you there 🙂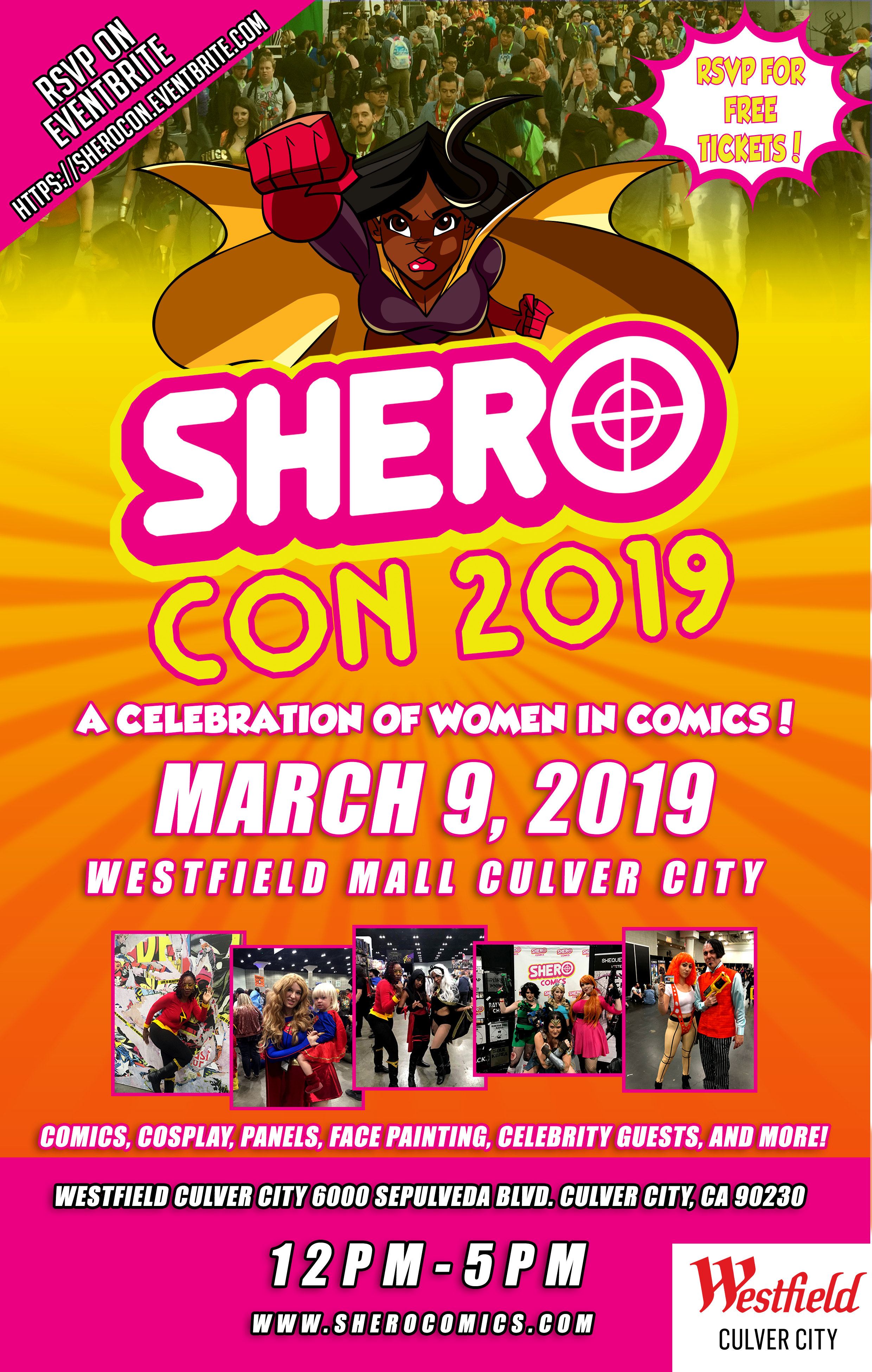 M
arch 8th
2019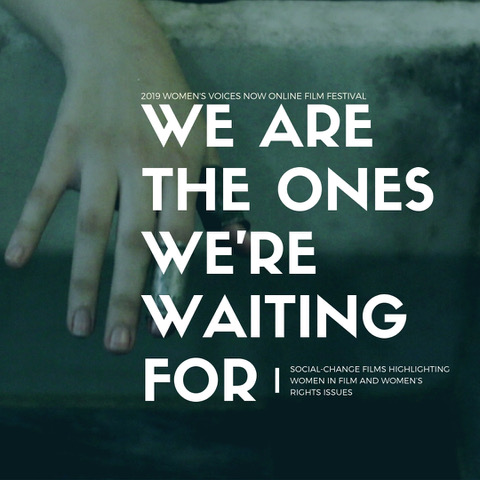 Congratulations to this year's official selections for the @WomensVoicesNow Film Festival. This year's festival title is: We Are The Ones We're Waiting, portraying diverse women and stories about women in their truths: resourceful, indefatigable, brave, hopeful, and determined. Women need not wait for an external liberator. The hero — she is within. Learn more about the #womensvoicesnowfilmfestival –>http://bit.ly/2SuARll. #wvnff2019 #wvn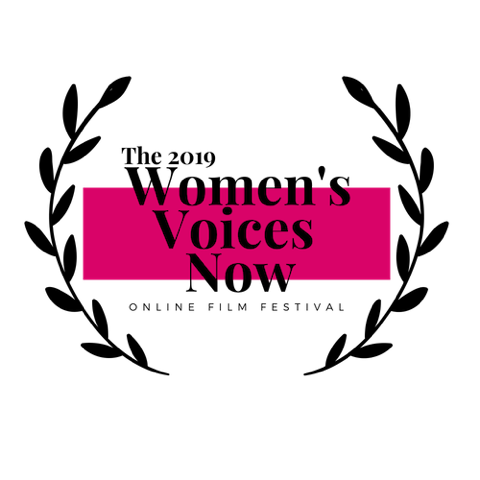 F

ebruary

 28th –

M

arch 3rd 

2019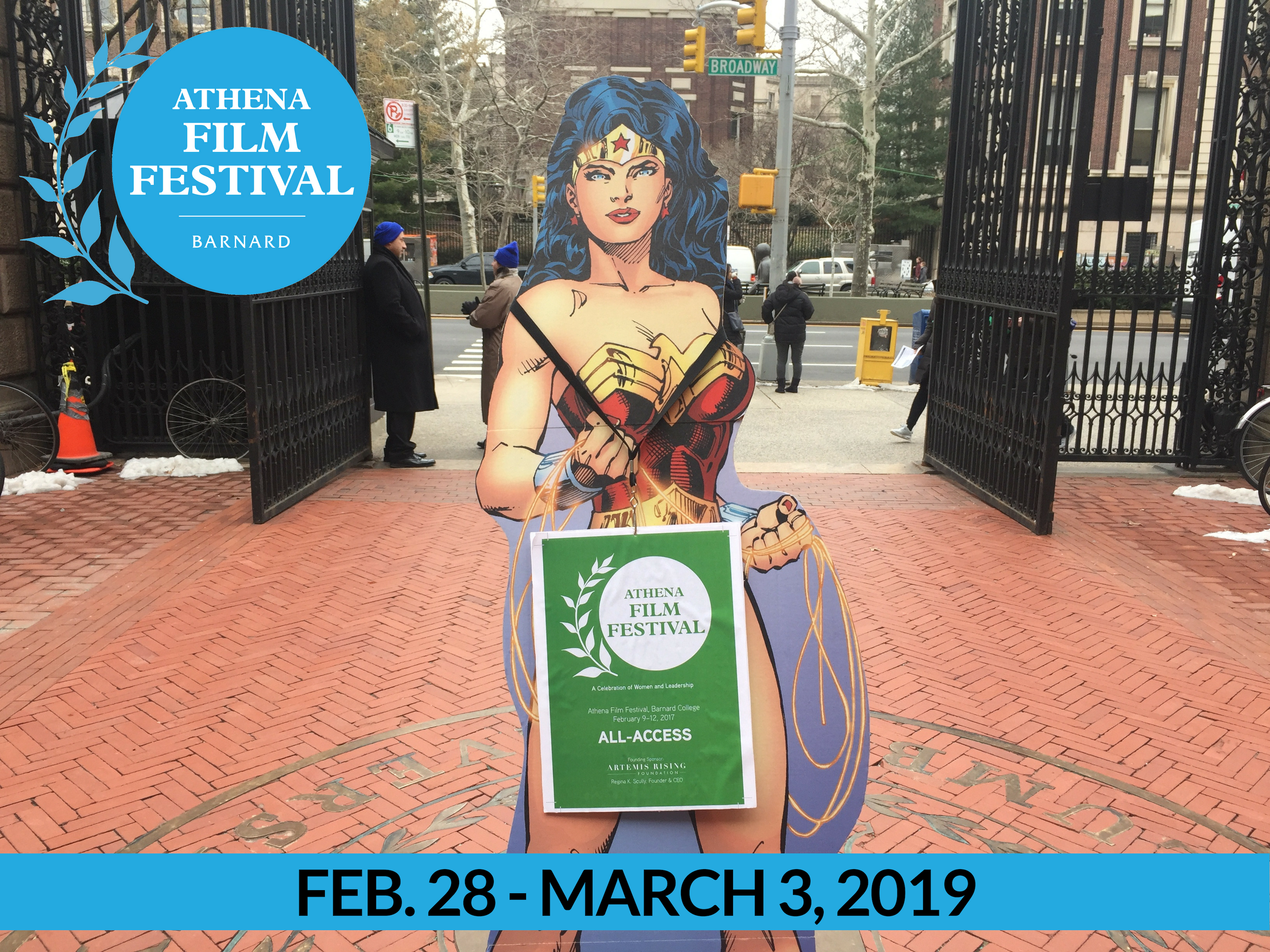 Women Occupy Hollywood is a proud organizational partner of the 2019 Athena Film Festival, a celebration of courageous and audacious women leaders taking place February 28 – March 3 at Barnard College in New York City. Starting with the New York premiere of Fast Color (featuring a Q&A with director/writer Julia Hart and co-writer Jordan Horowitz, plus an opening night party) and ending with Sundance Festival Favorite Knock Down the House, it is sure to be an unforgettable weekend.
Don't forget to visit athenafilmfestival.com to get your tickets.
#Athena19 starts this week! The Athena Film Festival champions fierce & fearless women on both sides of the camera, seeking to change what leadership looks like. Visit athenafilmfestival.com to check out the future of film. Feb. 28 – Mar. 3 at Barnard College.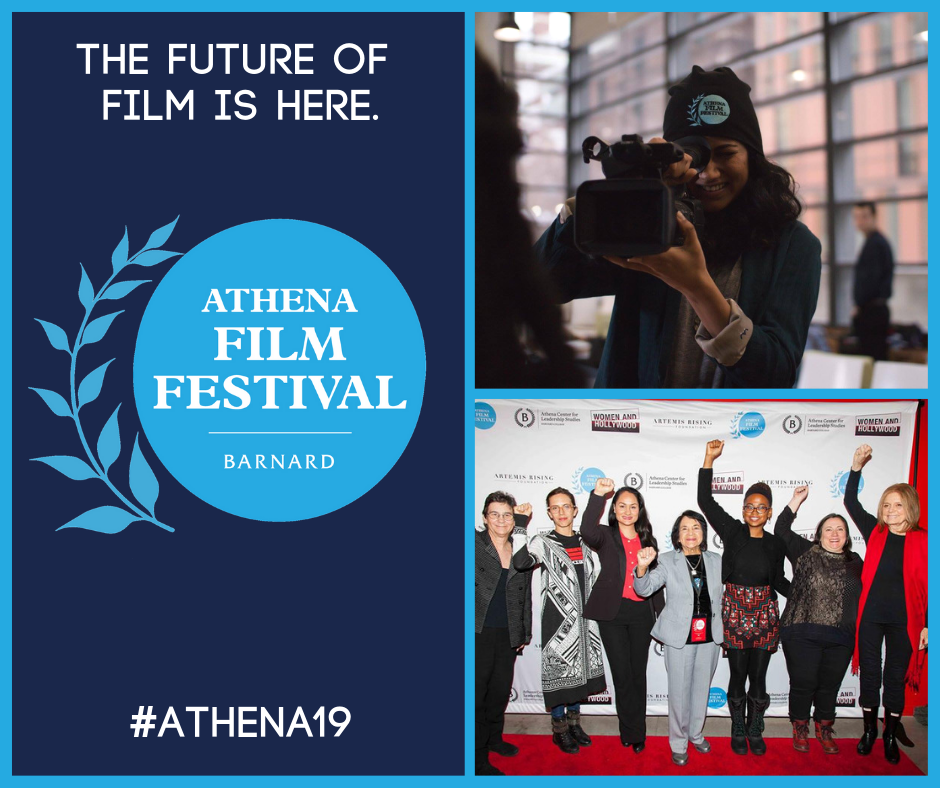 ~~~~~~~~~~~~~~~~~~~~~~~~~~

M

AY

5th

2018
We are very proud to sponsor this
UNIQUE EVENT
with TRAILBLAZER Thinker & Author
NOMI PRINS 
Please join best-selling author
NOMI PRINS
at the California launch of her new book
COLLUSION
How Central Bankers Rigged The World
A book that Publishers Weekly praises as "(an) unflinching, troubling exposé…not for the faint of heart", and Kirkus Reviews called "a sharp-edged critique of the hegemony of central banks over the world's economies" this expertly written, but in true Nomi style, fabulously approachable and readable book, has already garnered exceptional reviews by visionaries and ground breaking experts such as David Cay Johnston, Paul Craig Roberts, James Rickards, Jeremy Scahill, Danielle DiMartino, and Ralph Nader.
Sponsored by
Women Occupy Hollywood, KPFK and Truthdig
and hosted by
the irrepressible award winning investigative
journalist and author Greg Palast
 The night includes
a live music performance by Danny McGaw and his band
who will be showcasing his composition
'You & Me' the companion song to 'Collusion' amongst other songs on his upcoming album.
There are very SPECIAL
Women Occupy Hollywood
multiple ticket purchasing options
(find the link below to get your tickets NOW at up to 50% OFF regular price) from entry only all the way up to a VIP experience with Nomi which includes a signed book, personal photo opportunity, preferred seating, food, wine, and, of course, on Cinco de Mayo, a fabulous tequila tasting courtesy of Mario Lozano of Señor Artesano Tequila.
 https://wohnomiprins.eventbrite.com
Please join us on the evening of
May 5, 2018 from 6pm
at Immanuel Presbyterian Church, 3300 Wilshire Blvd,
as one of the United States'
pre-eminent thinkers and authors on public policy, politics, banking, the world economy, and the Federal Reserve reveals the truth about the 'Collusion' between world central banks and bankers.
Facebook page for Collusion book release in LA https://www.facebook.com/events/348732785641651/?ti=icl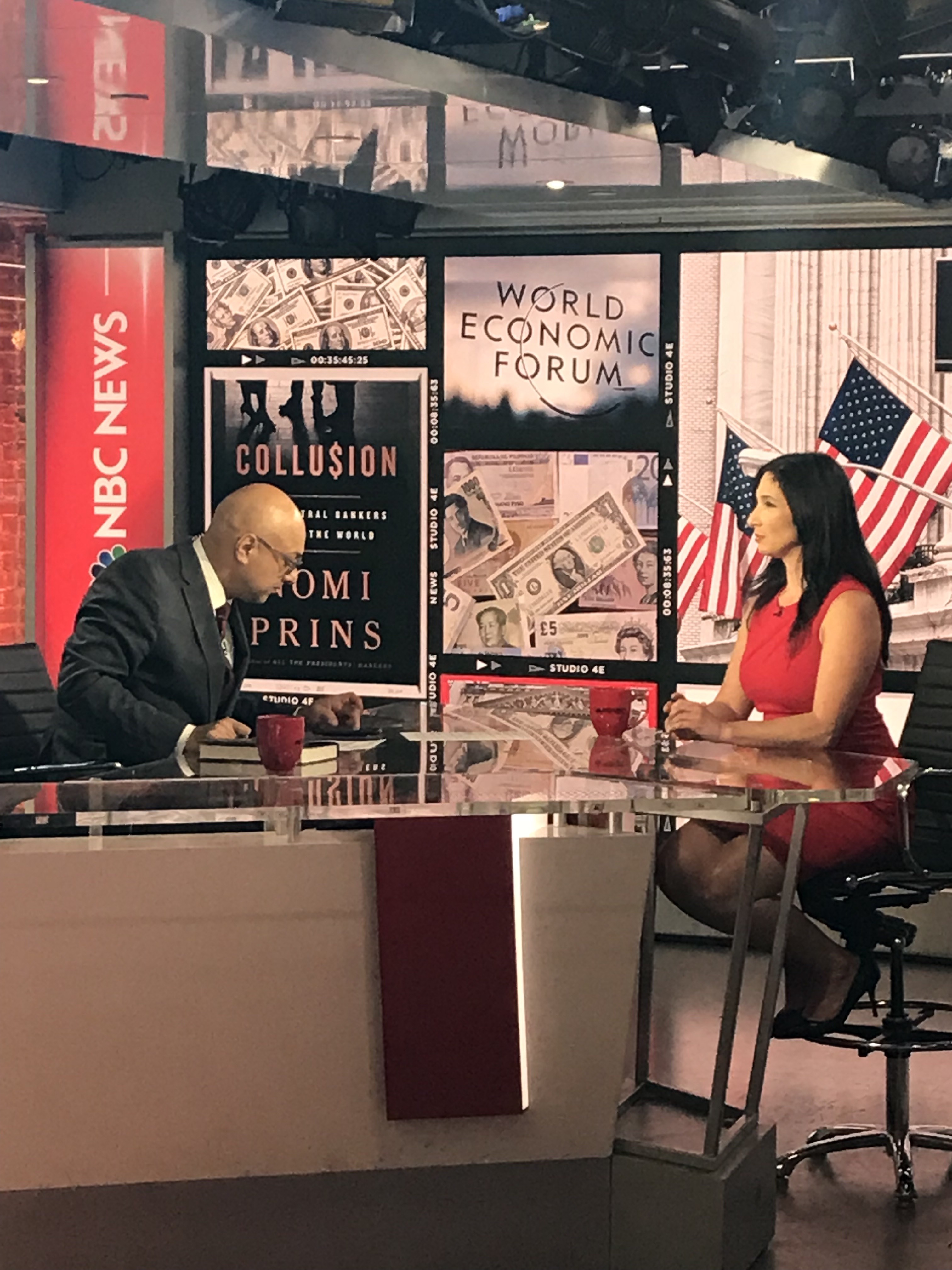 COLLUSION
How Central Bankers Rigged the World
NOMI PRINS
Author of 'All the Presidents' Bankers'
In this searing exposé, former Wall Street insider Nomi Prins shows how the 2007-2008 financial crisis turbo-boosted the influence of central bankers and triggered a massive shift in the world order.
Central banks and international institutions like the IMF have overstepped their traditional mandates by directing the flow of epic sums of fabricated money without any checks or balances. Meanwhile, the open door between private and central banking has ensured endless opportunities for market manipulation and asset bubbles-with government support.
Through on-the-ground reporting, Prins reveals how five regions and their central banks reshaped economics and geopolitics. She discloses how Mexico navigated its relationship with the US while striving for independence and how Brazil led the
BRICS countries to challenge the US dollar's hegemony.
She explains how China's retaliation against the Fed's supremacy is aiding its ongoing ascent as a global superpower and how Japan is negotiating the power shift from the West to the East. And she illustrates how the European response to the financial crisis fueled instability that manifests itself in everything from rising populism to the shocking Brexit vote.
Packed with tantalizing details about the elite players orchestrating the world economy-from Janet Yellen and Mario Draghi to Ben Bernanke and Christine Lagarde-Collusion takes the reader inside the most discreet conversations at exclusive retreats like Jackson Hole and Davos.
A work of meticulous reporting and bracing analysis, Collusion will change the way we understand the new world of international finance.
 Nomi Prins worked on Wall Street as a managing director at Goldman Sachs and ran the international analytics group as a senior managing director at Bear Stearns in London before becoming an author. Now a journalist, public speaker, and media commentator, she is the author of six books. Her writing has been featured in the New York Times, Forbes, Fortune, the Guardian, and the Nation, among others.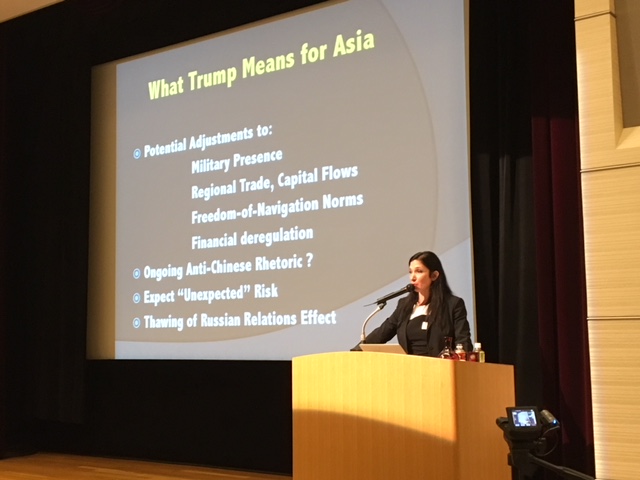 Praise for COLLUSION
"After the 2008 economic collapse, central banks created $21T of money to stave off a global depression. But who got all that new money? And how was it used? The always insightful Nomi Prins, after traveling the globe for answers, reveals the shocking truth-and she does it in plain English so everyone can understand the awful facts." David Cay Johnston,
Pulitzer Prize-winning journalist and bestselling author of
It's Even Worse Than You Think
"Prins is that rare combination of real-world expertise, scholarly method, and a brilliant writing style. Here, she goes beyond the tired complaints about central bank money printing to show that manipulation of markets by the central bankers is far more complex and pervasive than labels like 'easy money' can convey. A must-read for savers, students, journalists, and public officials." James Rickards, bestselling author of
Currency Wars and The Death of Money
"Prins has emerged as one of the fiercest critics of crony capitalism and its sustained attacks against poor and working people. This is the book that the financial elites don't want you to read." Jeremy Scahill, Academy Award nominee, bestselling author of Blackwater, and cofounder of The Intercept
 "Meet the Lords of Finance of the twenty-first century. Prins' in-depth reporting explores how central bankers' political aspirations came to supersede their duties to safeguard their economies. Read this book to understand how very wrong they are and to fully grasp the danger that lies in wait." Danielle DiMartino Booth, author of Fed Up and former Federal Reserve advisor
 "Prins, a refugee from Goldman Sachs, tells the truth on her fellow banksters and their abuse of the scary uber-power they wield when they take control of the world's central banks." Greg Palast, New York Times bestselling author of The Best Democracy Money Can Buy.
Here is the link to the song
'You & Me' by Danny McGaw
to 'Collusion – How Central Bankers Rigged The World'.https://youtu.be/321w26gF4ec

Click Here For Nomi's Website nomiprins.com
See YOU There!
———————————————————————————————————————-
F

ebruary

2

018

Events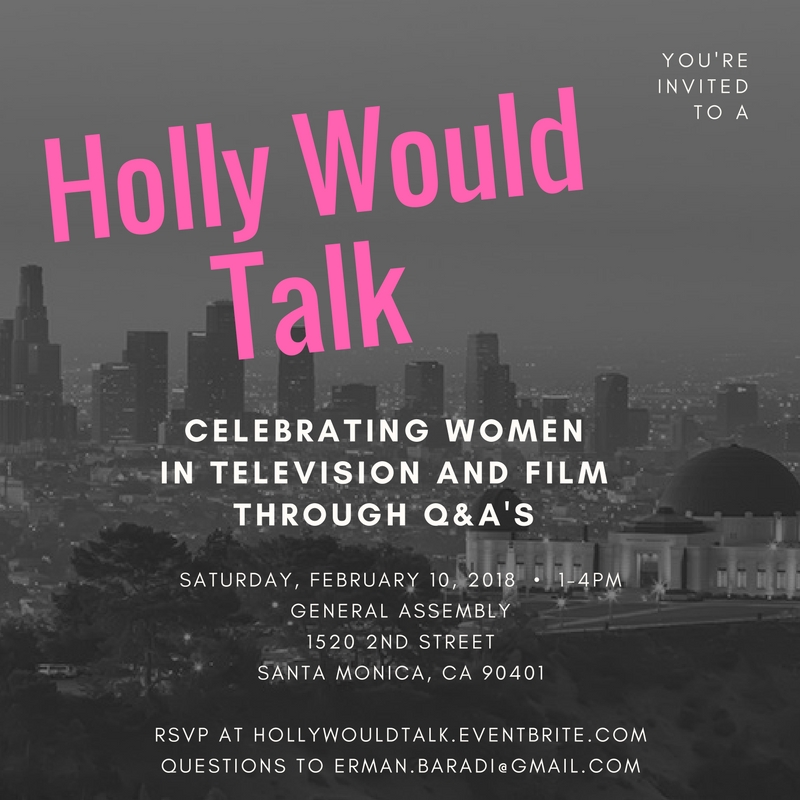 February 10th
JOIN US for this KICK-ASS EVENT on Saturday February 10th, from 1-4pm.
This is the first edition of HOLLY WOULD TALK, a Q&A series featuring POWERHOUSE WOMEN in various fields of the INDUSTRY! Presented by Erman Baradi of MixKnowledgy & The Film Empire. The kick-off event will be held at General Assembly in Santa Monica.
Guest speakers include:
Cate Adams, production executive, Warner Bros.
ADR Voice Casting & Director Terri Douglas: Coco, Star Wars: The Last Jedi, Moana, Frozen, Star Wars: The Force Awakens, Maleficent, Doctor Strange, Trolls, Zootopia, Incredibles 2, Mad Max: Fury Road, Wreck-It-Ralph
Production Designer Suzuki Ingerslev: Here and Now, Colony, True Blood, Six Feet Under
Ally Iseman, creator, Flip the Script
Production Designer Jade Healy: I, Tonya, The Killing of a Sacred Deer, A Ghost Story
Women Occupy Hollywood Founder Writer/Director Ivana Massetti will conduct the Q&A with Warner Bros. Executive Cate Adams.
Event is for all ages. Limited to 50 attendees. RSVP for remaining tickets at hollywouldtalk.eventbrite.com. 
WOH Followers get 25% Off. Discount Code IVANAOCCUPY
~~~~~~~~~~~~~~~~~~~~~~~~~~~~~~~~~~~~~~~~~~~~~~~~~~~~~~~~~~~~~~~~~~~~~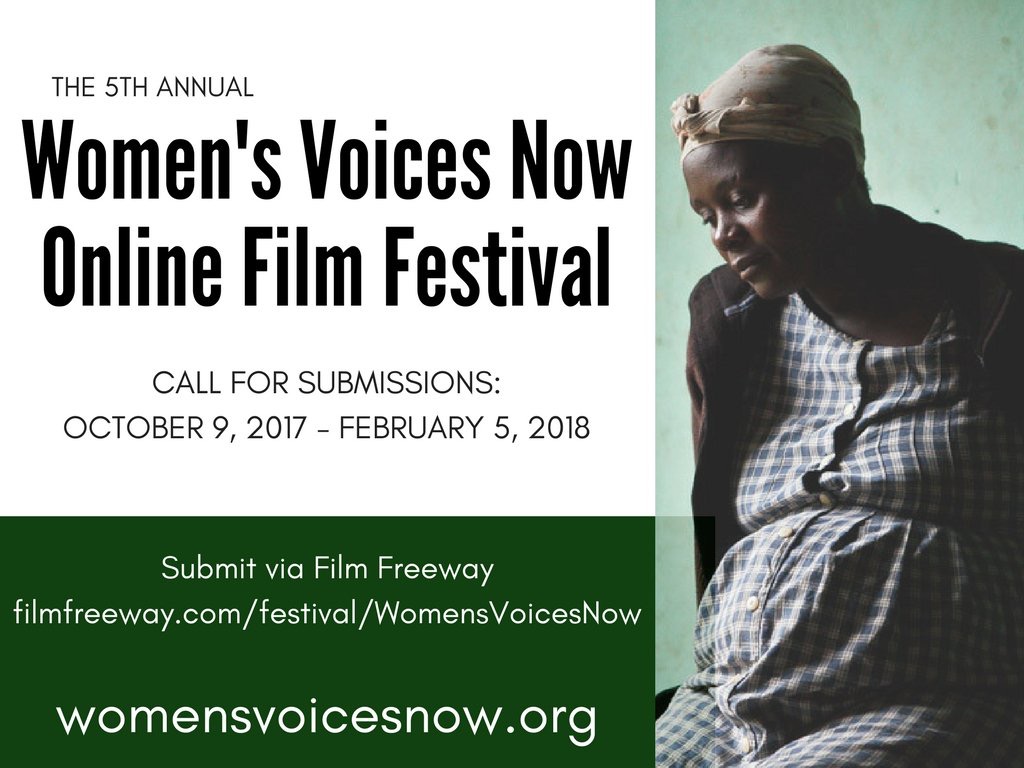 Ends February 15th!
Ladies these are the LAST DAYS to Submit your film made by WOMEN/about WOMEN/on WOMEN'S RIGHTS Issues to the 5th Women's Voices Now ONLINE FILM FESTIVAL via FilmFreeway bit.ly/2n3ij9e 
Submit Today & Change the Narrative!
~~~~~~~~~~~~~~~~~~~~~~~~~~~~~~~~~~~~~~~~~~~~~~~~~~~~~~~~~~~~~~~~~~~~~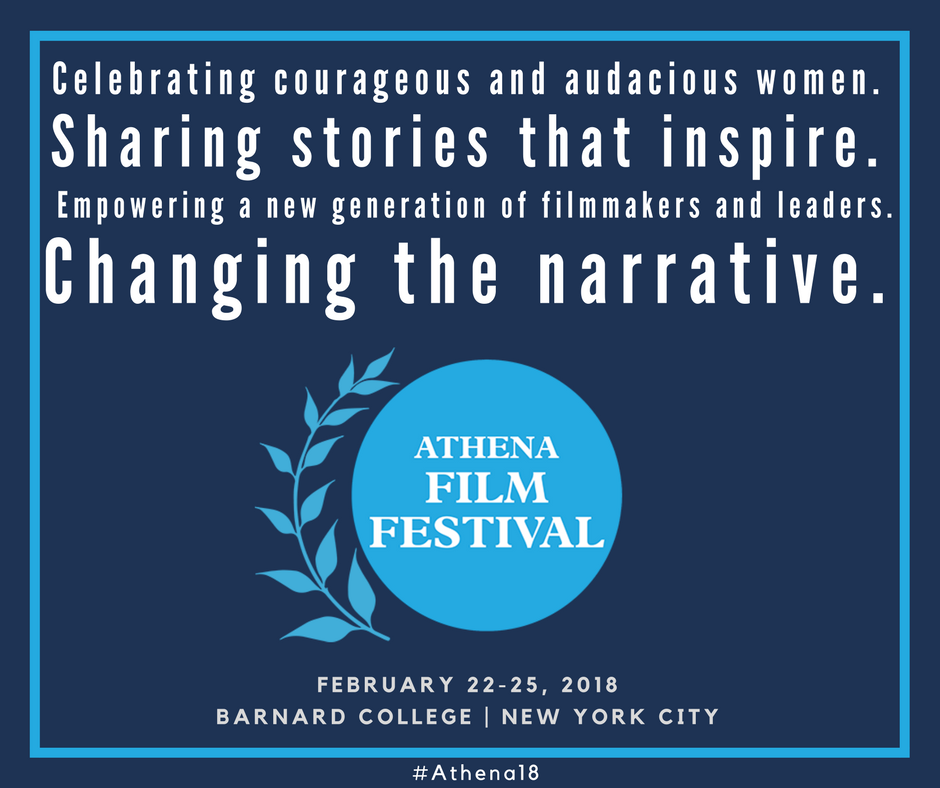 February 22 – 25 
JOIN US at the Athena Film Festival.
Get Your Discounted 2018 Athena Film Festival Tickets Before They're Gone!
The 2018 Athena Film Festival starts in just a few weeks, and tickets are going quickly! Don't forget to visit athenafilmfestival.com today and use the code 18AFF15PS for 15% off your tickets.
 The Athena Film Festival, taking place February 22-25 at Barnard College in New York City, is an engaging weekend of feature films, documentaries and shorts that highlight powerful stories about courageous and audacious women leaders.
The four-day festival includes inspiring films; conversations with directors, actors, and activists; and workshops for filmmakers and film fans.
We're proud to be an organizational partner of the festival and hope you'll JOIN US in attending!  
#Athena18
~~~~~~~~~~~~~~~~~~~~~~~~~~~~~~~~~~~~~~~~~~~~~~~~~~~~~~~~~~~~~~~~~~~~~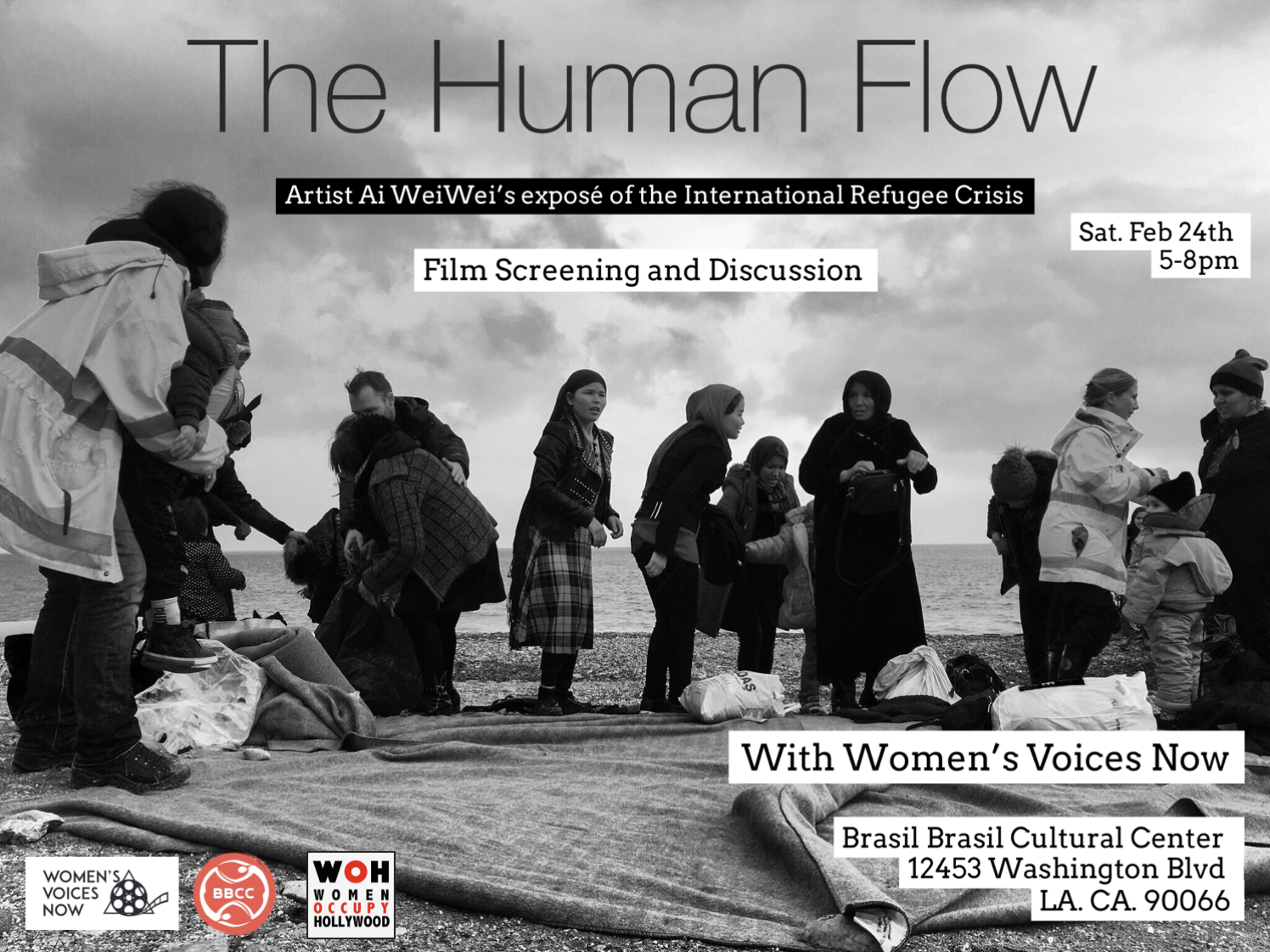 February 24th
Please JOIN US and Our Community Partner Women's Voices Now for the Screening of the documentary 'The Human Flow' by artist Ai Weiwei, the first event of the BBCC/WVNcoordinated Peaceful Warriors Screening Series.
Saturday February 24th 5-8pm @ Brasil Brasil Cultural Center
See U There!
Please RSVP here: https://www.facebook.com/events/139686570032739
~~~~~~~~~~~~~~~~~~~~~~~~~~~~~~~~~~~~~~~~~~~~~~~~~~~~~~~~~~~~~~~~~~~~~
January

 

2

018 

Events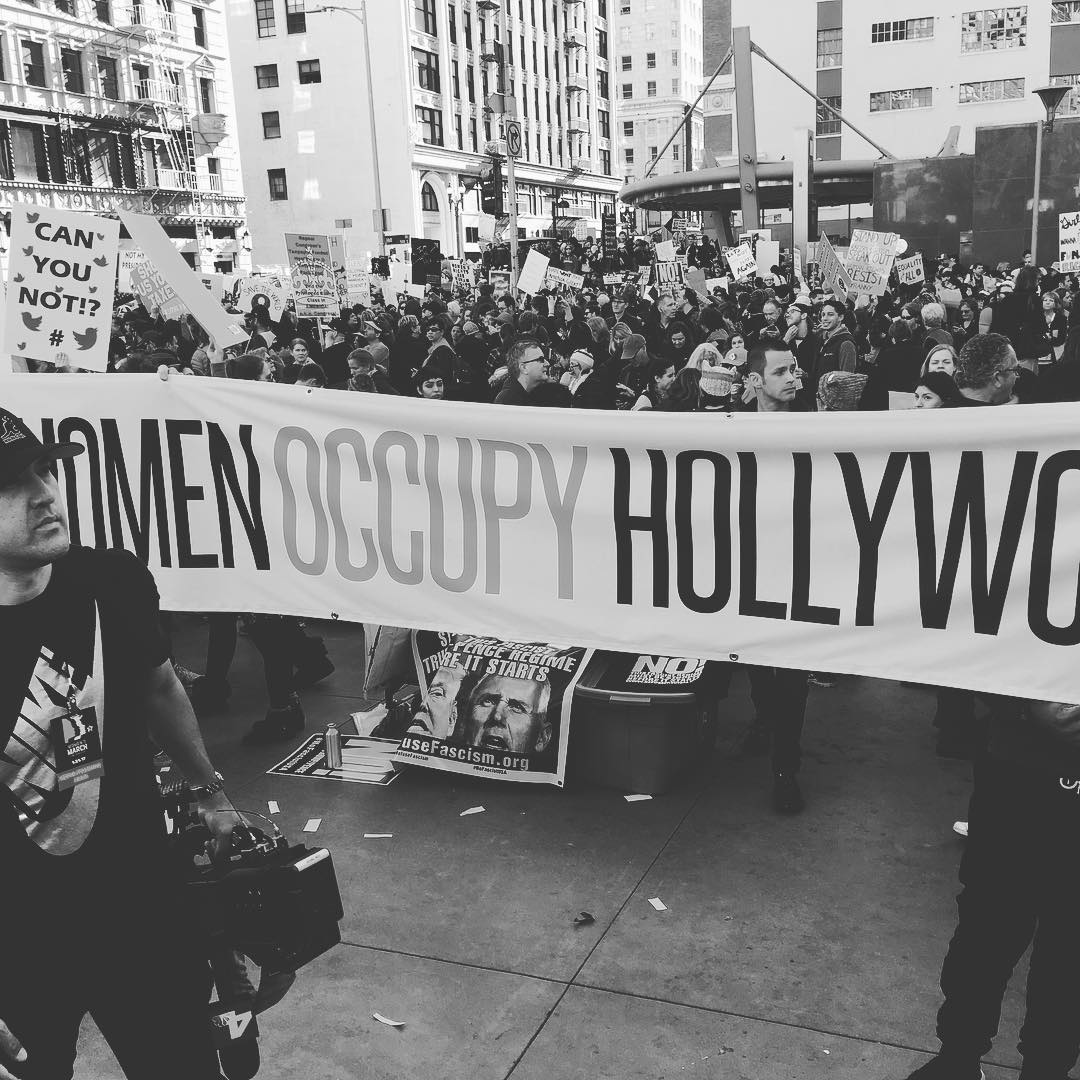 1/20/18 WOMEN'S MARCH 
Women in Film & Allies!
HAPPY NEW YEAR!
A YEAR AFTER the Women's March that shook the WORLD here WE are again.  
On January 20 2018 We will Take to the Streets of L.A. and All of America again to Scream
Who We Are, What We Want. To Scream that We Are getting Ready to VOTE and this YEAR our VOTE Goes to politicians who care about Equality, politicians who care about Women. 
On January 20 2018 MARCH with Women Occupy Hollywood 
For #Equality #GenderEquality #5050ByNOW #EqualRightsforWomen #ERANOW #RatifyERA2018  #FliptheHouse #FliptheSenate #JusticeforWomen #MeToo #TIMESUP
 Against  #ViolenceonWomen #SexualAbuse #SexualAssault #Rape
WE Will March with the organization Equal Means Equal and the rest of the
Women's March Los Angeles 2018
See you at 8:30 at Starbucks across from Pershing Square. Bring your beautiful/creative SIGNS.
For more info send us an email at womenoccupyhwd@gmail.com
JOIN US!
 "This moment we live in is a pivotal moment.
This moment is a moment of enormous inequality, a moment where everything is precarious, fragile. It's a moment where several Constitutional freedoms are in question.
This specific moment is the time for equality.
This is the time to stand up for what is right, for what is just, for the rights of women in Hollywood and all over America.
This is the time to act, to disrupt, to protest, to run for office, and to vote.
This is the time to vote for our people, to defend our tribe. This is the time to vote for politicians who care about equality, for politicians who care about women.
We, individually, can change history. With our actions. With our votes. In this new cycle of elections we have to get out and vote.
We have to get out and say out loud: Our Vote is going to Equality!
Enough is enough. Because Equal Means Equal".
Check out the whole Speech by Ivana Massetti on the WOH Blog: 
https://womenoccupyhollywood.com/womensequalityday/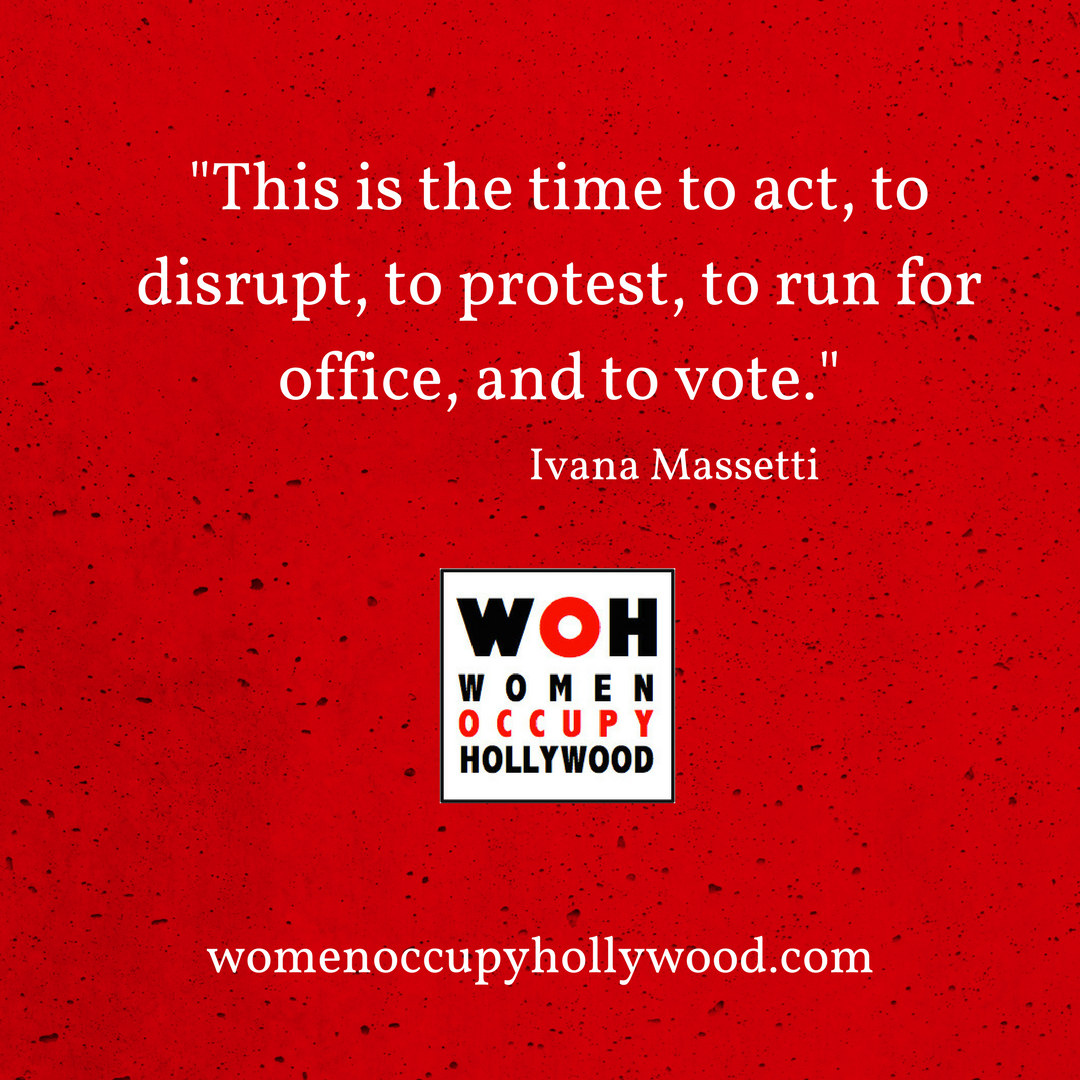 ---
OCTOBER 2017
Ladies and Friends,
the following event (October 17, 2017) is postponed because of the Wildfires in Northern California. We will let you know the new date of the Fundraising when this difficult moment had passed. 
For those who would like to send a contribution to The Phoenix PAC of Senator Pat

Spearman

to support her efforts to ratify the

ERA

please send your check to:
Phoenix PAC
431 S. 6th St
Las Vegas, NV 89101 
Thank you

in advance for your  understanding and generosity. 
---
---
October 17, 2017
Ladies and Friends Join Ivana Massetti & Women Occupy Hollywood
for this important Fundraising Event.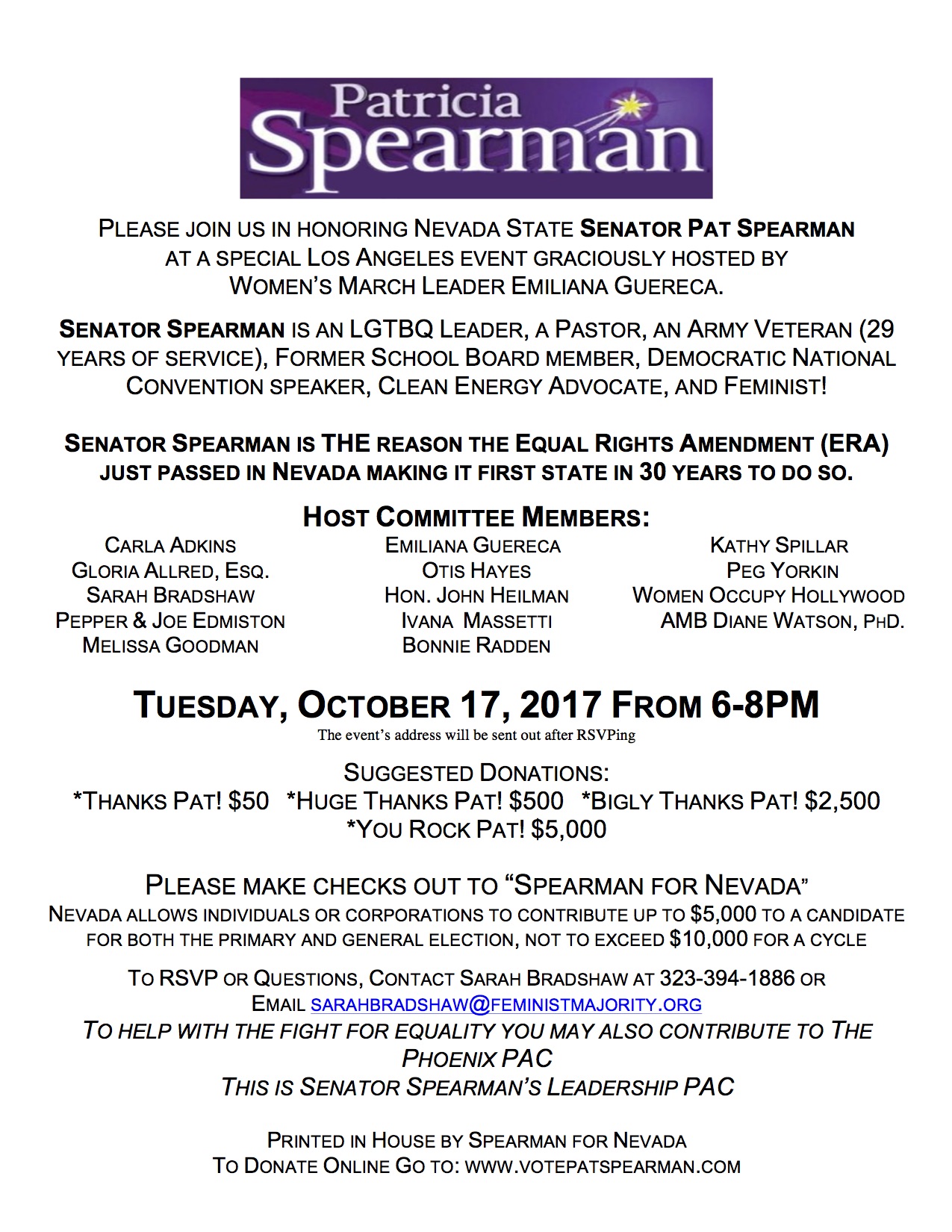 ---
August 18, 2017 
Women's Equality Day Event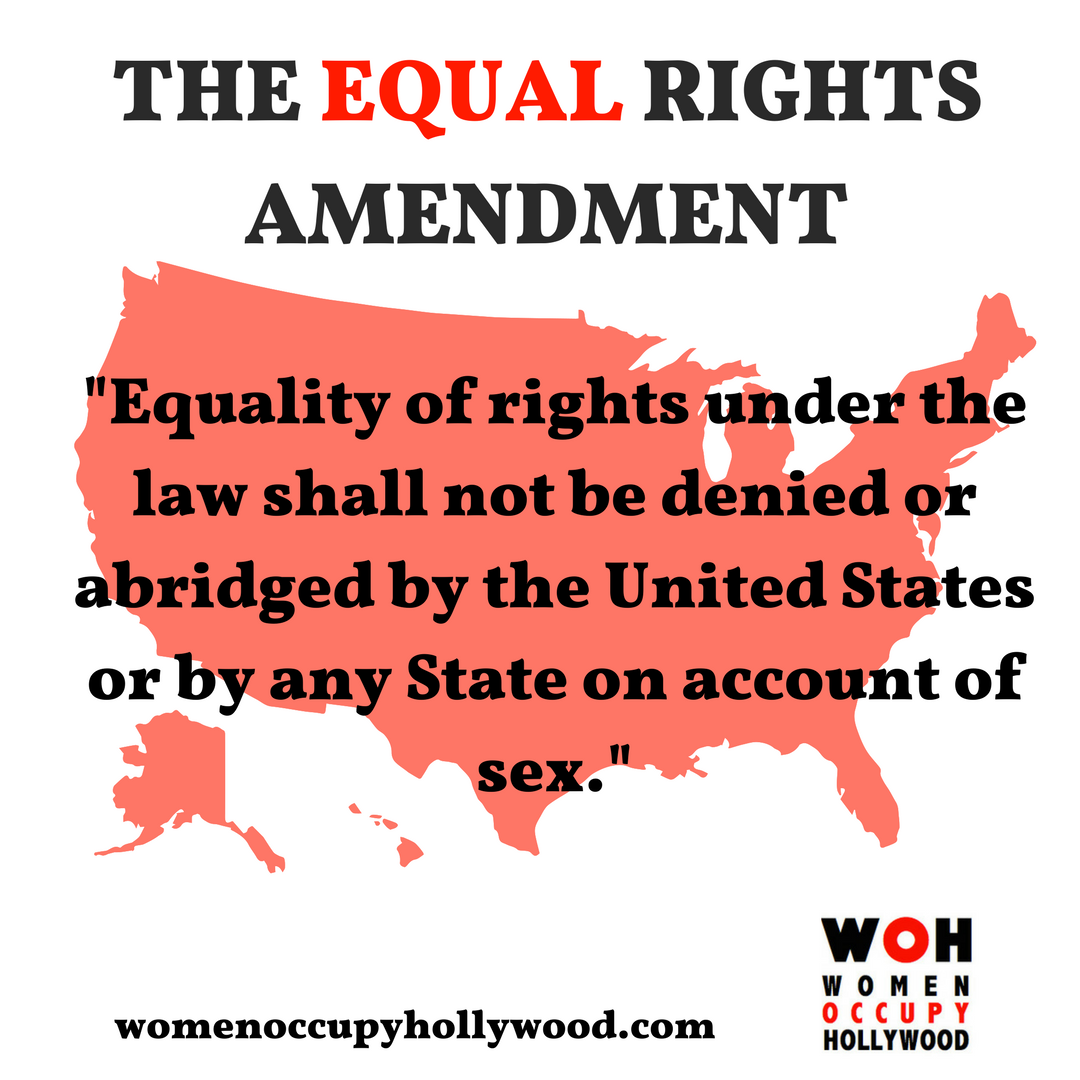 Please Join Women Occupy Hollywood and the City of West Hollywood to celebrate Women's Equality Day for an evening about Equal Rights for Women and learn how you can support the passage of the Equal Rights Amendment, ERA.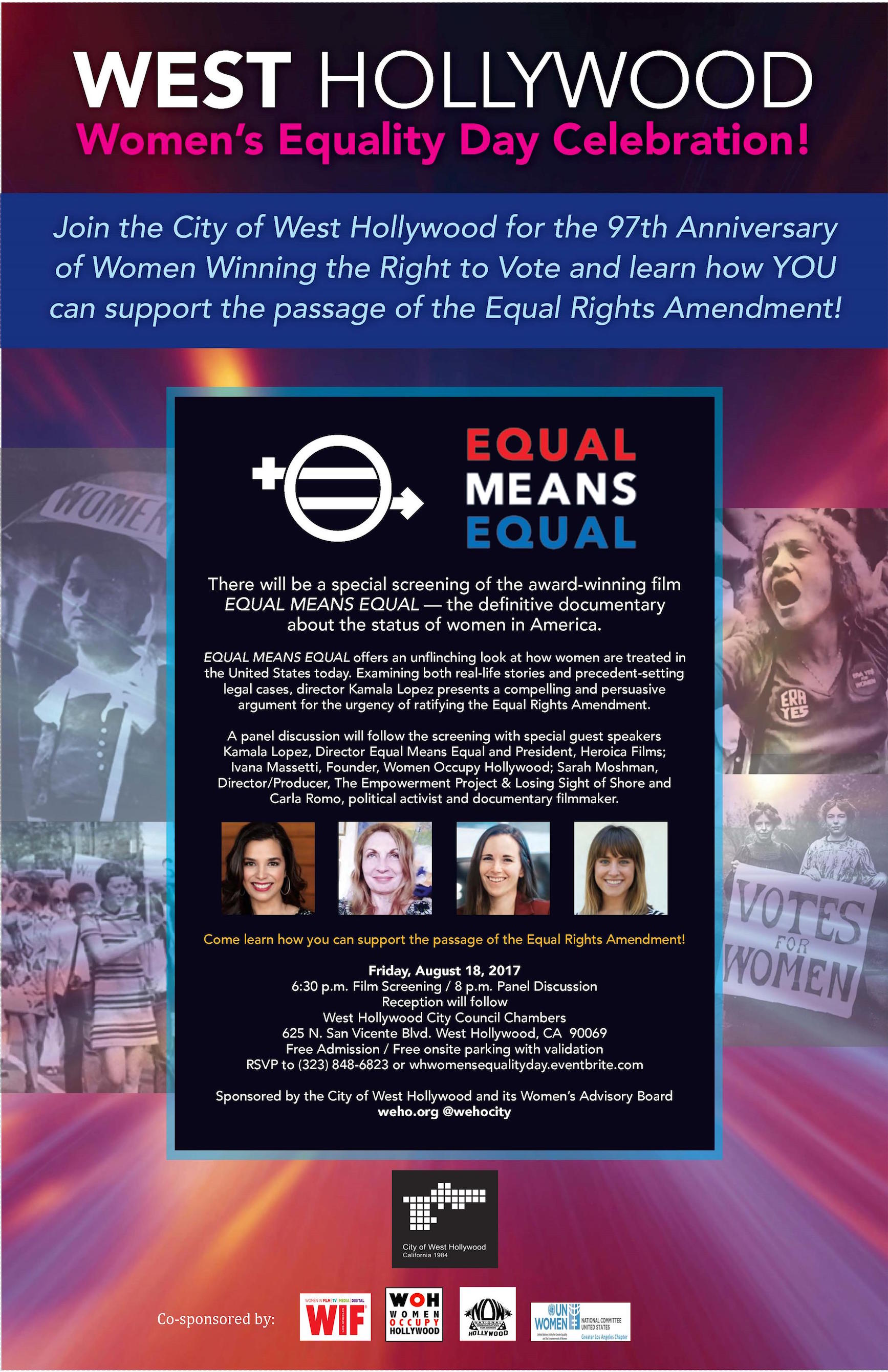 The evening will start with the screening of the film Equal Means Equal by activist/director Kamala Lopez.
EQUAL MEANS EQUAL is the definitive documentary film on the status of women in the America.
EQUAL MEANS EQUAL offers an unflinching look at how women are treated in the United States today. Examining both real-life stories and precedent-setting legal cases, director Kamala Lopez presents a compelling and persuasive argument for the urgency of ratifying the Equal Right Amendment.
Women Occupy Hollywood joins a nation-wide call to action of Equal Means Equal's new Campaign to ratify the Equal Rights Amendment once and for all.
Women in Film, this is also our call, to ratify the ERA is the first crucial ACT FOR GENDER EQUALITY in America and in the INDUSTRY.
The film will be followed by a panel discussion & a reception.
GUEST SPEAKERS:

Kamala Lopez, Director Equal Means Equal and President, Heroica Films
Ivana Massetti, Writer/Director/Producer, I M From Mars Films and Founder, Women Occupy Hollywood
Sarah Moshman, Director/Producer, The Empowerment Project & Losing Sight of Shore
Moderated by Carla Romo, political activist and documentary filmmaker.
Friday, August 18, 2017
 6:30 p.m. Film Screening / 8 p.m. Panel Discussion
Reception will follow.
West Hollywood City Council Chambers
625 N. San Vicente Blvd. West Hollywood, CA 90069
Free onsite parking with validation
Sponsored by the City of West Hollywood and its Women's Advisory Board 
Co-sponsored by Women Occupy Hollywood
 Please RSVP to this FREE EVENT Today & spread the word!
May 9-15, 2017 
Egyptian and Aero Theatres
EUROPEAN WOMEN DIRECTORS
Wednesday, May 10th – 7:30 PM
CLOSE TIES (short film- Poland)
 Director: Zofia Kowalewski
In this atypical documentary, winner of the Silver Dragon at the Krakow Film Festival 2016, the 21-year-old filmmaker explores the tensions that rise as her grandparents struggle to cohabitate after being separated for a long time. 
The movie centers in and around Barbara and Zdzislaw's 45th anniversary and its preparation. This would have been a joyous celebration, if it weren't for the fact that the husband left hi wife for his lover 8 years ago. 
"The film's director, Zofia Kowalewska, is a 21 year-old student at the Directing Department in the National Film School in Łódź. What's interesting is that the young documentary director started working on her film while she was still in high school. Despite her young age, she has already produced films in addition to Close Ties: the study Miśka, and a documentary called Loving."
Close Ties "Polish Film Institute" News : http://en.pisf.pl/news/close-ties-by-zofia-kowalewska-on-oscar-s-2016-shortlist
Interview with Zofia Kowalewska "Polish Doc": http://polishdocs.pl/en/interviews/3240/i_was_striving_for_a_simple_naturalistic_film_in_which_emotions_are_the_most_important_thing_-_interview_with_zofia_kowalewska_the_author_of_the_film_close_ties
Thursday, May 11th – 7:30pm
I'M NOT FROM HERE (short film- Lithuania)
Directors: Maite Alberdi, Giedrė Žickytė
A Basque woman is stranded in an old people's home in Chile, but there is more than meets the eye in this documentary, which won the Best Short Doc Award at Sheffield Doc Fest 2016.
"The Danish film festival CPH:DOX had invited us two years ago to make a film together, but being from Chile and Lithuania, we had never met, and it felt like a blind date. As we tried to figure out each other's styles and interests, however, we quickly settled on this topic, which seemed to lend itself naturally to the type of conceptual film we are both drawn to. We were especially interested in capturing the feeling of alienation inherent to immigration — and also, perhaps, to living in a nursing home: the feeling of not truly being at home." 
I'm not from here "NYTimes" opinion piece https://www.nytimes.com/2016/09/13/opinion/im-not-from-here.html
Friday, May 12th – 7:30pm
IN BED WITH VICTORIA (feature film-France)
Director: Justine Triet
This romantic comedy about a lawyer whose life falls apart after she takes on a case defending her ex-boyfriend was nominated for five César Awards in 2017, including Best Original Screenplay and Best Film. "A chaotic mid-life-crisis comedy anchored by a vibrant lead performance." – Jordan Mintzer, The Hollywood Reporter.
"Unlike many French female directors who are reluctant to discuss how being a woman impacts their work, 38-year-old Triet is refreshingly open about her desire to create a strong female protagonist for In Bed With Victoria, drawing on central character of her debut work."
"Questions on gender can be complicated in that you want people to talk about your film, rather than the fact you're a woman but In Bed With Victoria is undeniably a portrait of a contemporary woman with a busy life and powerful job directed by a woman, which in itself is a feminist approach."
In Bed with Victoria "Hollywood Reporter" Review http://www.hollywoodreporter.com/review/bed-victoria-victoria-cannes-review-890485
Saturday, May 13th – 6:30pm
LITTLE WING (feature film, Finland)
Director: Selma Vilhunen
Director Selma Vilhunen's debut feature is an uplifting story about a young girl (newcomer Linnea Skog) who decides to track down her father after being disappointed by her immature mother (Finnish pop star Paula Vesala, in an affecting dramatic turn). Like its teenage heroine, the film tackles issues such as bullying, poverty and mental illness with considerable maturity and respect. Nominated for 10 Jussi Awards this year. "A tender-hearted coming-of-age story shot in a low-key, realist style." – Alissa Simon, Variety.
Q+A with Actress Paula Vesala 
Director believes that it is important for women to make films about women. "The amount of films made by women is ridiculous small…this simply needs to be changed", she says in a French interview. Yet she does mainly regard herself has a human being and whether she makes a film about boys or girls, she always thinks about her character as a human being first. (Source: Festival de Cinéma Européen des Arcs)
Two powerful female leads should come as no surprise from Vilhunen, who was raised by a single mother and who wrote and directed "Little Wing," her fiction feature debut. She says the female-driven movie comes against a backdrop of broader efforts to shake up the Finnish film industry, which is trying to follow on the heels of successful initiatives in neighboring Norway and Sweden to close the gender gap.
Interview with dir. Selma Vilhunen on Little Wing in Seventh Row: https://seventh-row.com/2017/02/22/selma-vilhunen-little-wing/
Little Wing "Variety" Review: http://variety.com/2016/film/reviews/little-wing-review-1201867638/
Saturday, May 13th- 6:30pm
FLOWERS (short, Croatia) 
Director: Judita Gamulin
This short offers perspective on two families visiting their respective patriarchs in a shared hospital room.
The first half of the movie deals with the conversation of the first family and the second half with the other. A beautiful family drama that is emotionally packed and deals with the realities of life. These realities can have a happy ending for some and not for others.
Judith Gamulin (1992) is a student of the graduate program in filmmaking at the Academy of Dramatic Arts in Zagreb. She has been also recently working in film production as a scriptwriter, editor, assistant installation and assistant director.
Flowers "Hrvatski audiovizualni centar" information: http://www.havc.hr/eng/info-centre/news/flowers-by-judita-gamulin-in-finals-for-student-oscar-award
Sunday, May 14th- 7:30pm
THE OPEN DOOR (feature, Spain)
reer in both national and international awards. Director: Marina Seresesky
Rosa is a middle-aged sex worker in Madrid whose neighbor, a Russian sex worker, overdoses, forcing the woman's young daughter to seek refuge in Rosa's apartment. This compelling drama took home the best screenplay prize at the Guadalajara International Film Festival. "An admirably abrasive by-women-for-women drama." – Jonathan Holland, The Hollywood Reporter.
Last September 2015 she finished the production of her first feature film as director and scriptwriter, The open door, starring Carmen Machi, Terele Pávez and Asier Etxeandía, produced by Meridional Productions.
Her last shortfilm, The Wedding, was finalist in Goya Spanish Academy Film Awards 2013 as best fiction shortfilm, besides a long ca
The TV documentary, Mothers, 15 cents a minute, coproduced between Meridional Productions and Telemadrid, won a Biznaga de Plata in 14th Malaga's Spanish Film Festival (2010).
Her previous shortfilm, The Cortege, won more than 120 festival awards in and out Spain, being as well preselected for Goya Awards 2011, to the best fiction shortfilm.
The Open Door "Cineuropa" review  http://cineuropa.org/nw.aspx?t=newsdetail&l=en&did=307090
(Photos Courtesy of the American Cinematheque)
Regular Ticket $12 – For Women Occupy Hollywood Subscribers $9. Just mention at the Box Office that you are with Women Occupy Hollywood.
See YOU There!
More info here: http://americancinemathequecalendar.com/content/starring-europe-new-films-from-the-eu-1
May 1, 2017 @ 8pm  
LIVE TALKS Los Angeles
Trailblazer Movie Producer and First Woman Studio Exec
SHERRY LANSING
in Conversation with Biographer
 STEPHEN GALLOWAY
about his BOOK
"Leading Lady: Sherry Lansing and the Making of a Hollywood Groundbreaker"
Location:  Ann and Jerry Moss Theatre at the New Roads School
3131 Olympic Blvd, Santa Monica, CA.
Film pioneer Sherry Lansing talks to Hollywood Reporter's Stephen Galloway about her legendary career at Live Talks Los Angeles on Monday, May 1.
Galloway is author of the new biography Leading Lady: Sherry Lansing and the Making of a Hollywood Groundbreaker. They will discuss her almost 30 years in the motion picture business as an independent producer and studio executive, and the work of The Sherry Lansing Foundation, a nonprofit she organized to support her special interests.
Sherry Lansing has worked in the motion picture business for almost 30 years where she was involved in the production, marketing, and distribution of more than 200 films, including Academy Award winners Forrest Gump (1994), Braveheart (1995), and Titanic (1997). Throughout her film career, she earned a reputation as a trailblazer, a visionary leader, and a creative filmmaker.  In 1980, she became the first woman to head a major film studio when she was appointed President of 20th Century Fox.  Later, as an independent producer, Lansing was responsible for such successful films as Fatal Attraction, The Accused, School Ties, Indecent Proposal, and Black Rain.  Returning to the executive ranks in 1992, she was named Chairman and CEO of Paramount Pictures and began an unprecedented tenure that lasted more than 12 years (1992–2005), during which the studio enjoyed enormous creative and financial success.
She founded The Sherry Lansing Foundation (SLF) in 2005, a nonprofit organization dedicated to cancer research, health, public education, and encore career opportunities.  Among the SLF's initiatives is the EnCorps STEM Teachers Program, founded by Lansing to transition corporate professionals and military veterans into top quality California public school math and science teachers.  Lansing is also a co-founder of the Stand Up To Cancer initiative, which funds collaborative, multi-institutional cancer research "Dream Teams."
She serves on the University of California Board of Regents, as a trustee of Big Brothers Big Sisters of Greater Los Angeles, where she co-founded the Scholarship Fund for deserving "Littles Sisters and Brothers."  In December 2004, Lansing was appointed to the Independent Citizens' Oversight Committee of the California Institute for Regenerative Medicine.
Lansing additionally serves on the boards of the American Cancer Society Cancer Action Network, the Broad Center for the Management of School Systems, the Carter Center, the Entertainment Industry Foundation, the W.M. Keck Foundation, the Lasker Foundation, and the Pacific Council on International Policy.  She also serves on the Executive Committee of Friends of Cancer Research and is Honorary Chair of STOP CANCER, a nonprofit philanthropic organization which she founded in partnership with the late Dr. Armand Hammer.
Lansing graduated cum laude with a Bachelor of Science Degree from Northwestern University in 1966.
Stephen Galloway is an Emmy Award-winning journalist who serves as the executive features editor for The Hollywood Reporter. Among his honors, he was named 2013 journalist of the year at the National Entertainment Journalism Awards. He has interviewed a who's who of Hollywood including Steven Spielberg, Denzel Washington, Sean Penn, Brad Pitt and George Clooney. He also created the Reporter's acclaimed roundtable series, featuring the likes of Clint Eastwood, Peter Jackson, Quentin Tarantino, James Cameron, Sandra Bullock and Nicole Kidman. In 2014, he was named the Cosgrove Visiting Artist at Loyola Marymount University, where he continues to host the interview series The Hollywood Masters. Born in the United Kingdom, he holds an M.A. from Cambridge University and is a graduate of the American Film Institute's Center for Advanced Film and Television Studies.
Event Details: Tickets can be purchased at livetalksla.org and range from $20-$95. For more information, contact info@livetalksla.org.
About Live Talks Los Angeles Since 2010 Live Talks Los Angeles has presented over 200 talks featuring authors, actors, filmmakers, artists, musicians, comedians, chefs, scientists, and business thought leaders in various venues in Los Angeles. Videos and podcasts of its events are available on its website www.livetalksla.org.