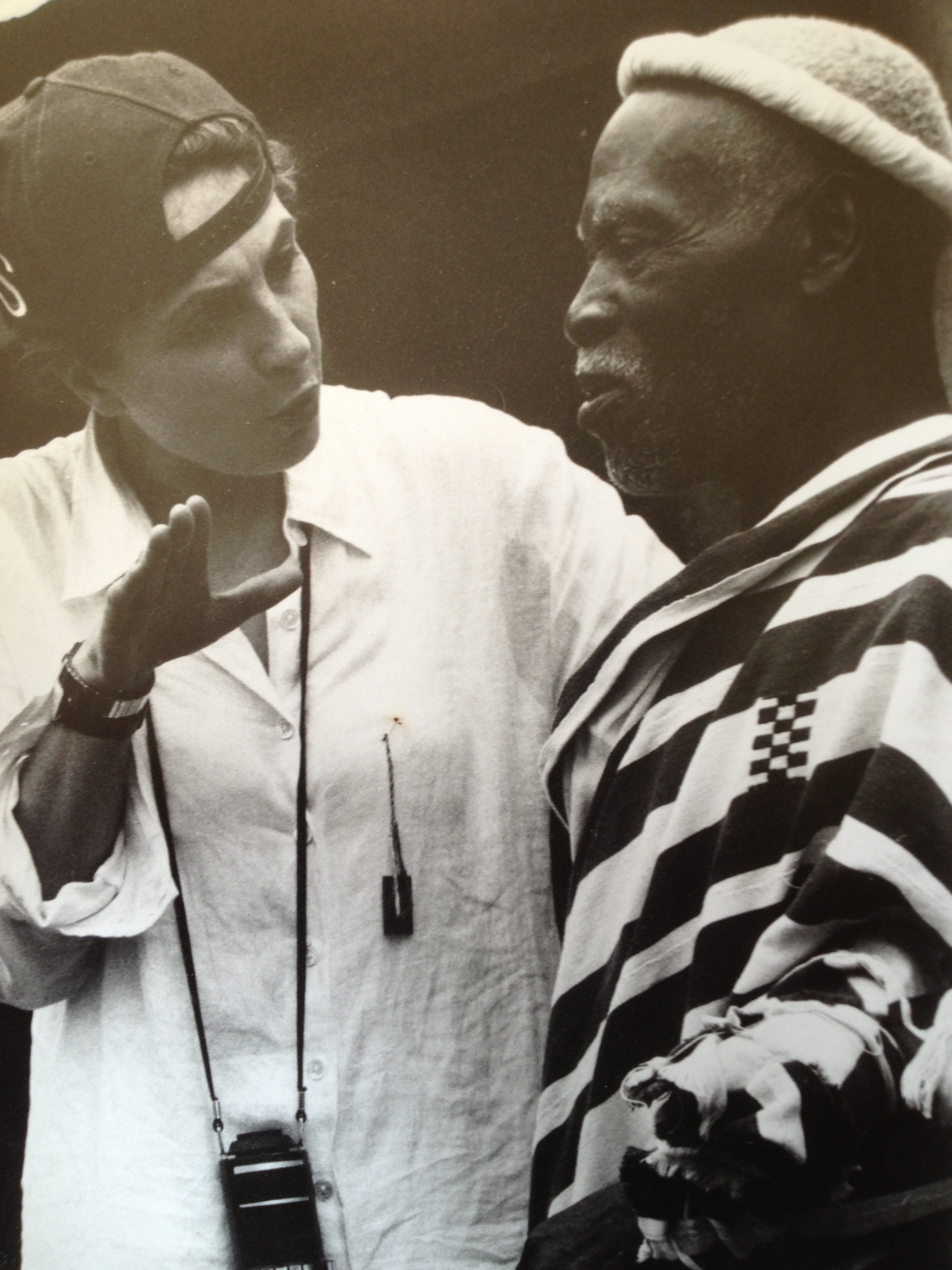 Ivana Massetti shooting the film "NADRO" about the African artist and scholar Frédéric Bruly Boaubré in Ivory Coast
IVANA

MASSETTI

A feminist, activist, writer, director, producer, IVANA MASSETTI was born in Todi (Italy) and lived and worked in Spain, France, Brazil, Africa, Argentina and now the U.S.. She studied Sociology, Ancient Literature (Greek and Latin), and Mythology in Rome and the Literature of the "Siglo de Oro" (Literature of the Golden Age) in Barcelona.
She began her career directing music videos, video-theater and fashion/haute couture commercials around the world and then continued in the film business.
Ivana wrote her first film DOMINO with Gerard Brach, which had an American distribution and has collaborated with extraordinary talents such as Harvey Keitel, Andrej Konchalovski, Danilo Donati, José Louzeiro and Daisy de Galard.
She shot a feature-length TV movie, ELEONORA PIMENTEL FONSECA, The Jacobean Marquise, for a major Italian TV Network, about an Italian woman aristocrat and leader of the Neapolitan Revolution.
Ivana was always interested in, and has devoted her work to, spreading awareness about important issues such as Child Abuse, Violence against Women, Women's Rights and Gay Rights. She created CINEMA AGAINST VIOLENCE and wrote, directed and produced 18 short films for an Italian Network.
She worked for the French government and the French organization "Medecins du Monde" on an HIV/AIDS awareness campaign, "3000 SCRIPTS AGAINST A VIRUS", that was aired by the major French TV Networks and had French distribution. Her short film AIDS IS FOR OTHER PEOPLE was honored with special screenings at both the Cannes and Venice Film Festivals.
Her film NADRO, about the artist-scholar Frédéric Bruly Bouabré, opened the Panorama section of the Berlin Film Festival and earned awards and high praise in film festivals all over the world. It is studied as an example of excellence in filmmaking at the University of Film and TV in Sidney, Australia. In May 2014 it was invited for a special screening at the USC – School of Cinematic Arts.
She wrote the miniseries THE LIFE OF LUCIANO PAVAROTTI, for which she is also the executive producer.
She actively working on a TV/Digital Series ONE DAY IN AMERICA, states of justice and injustice in the U.S., intertwined fictional stories that all happen on the same day. http://www.onedayinamerica.org
Films in development with her production company I M From Mars Films: the road movie, MOGADOR, four young people's crazy, deadly escape from Las Vegas to Mexico. ALL THE QUEEN'S MEN, a drama about a woman coming to terms with her past. A film on sex trafficking in America, and a drama about A GIRL UNDER THE INFLUENCE. She's also working on the film LEONARDO, a comedy, based on the book Leonardo's Kitchen Note Books, by Jonathan & Shelagh Routh. http://www.imfrommarsfilms.com
After living in Los Angeles for a few years, Ivana became more and more aware of and sensitive to the gender bias that plagues Women in the Hollywood industry, in particular women writers and directors, and decided to do something about it. In August 2015 she created the movement Women Occupy Hollywood in order to raise awareness about the injustice experienced by all Women in the Industry.  Women Occupy Hollywood fights for gender equality, equal rights for women, and the equal presence of women's voices in Hollywood and beyond. In the last year Women Occupy Hollywood expanded into a media company and a platform to develop, finance, produce and distribute content written, directed and produced by women to create an alternative to the male-dominated industry and to shape a new paradigm for the present and future generations of women in film. 
Since 2015, Ivana has been a mentor and teacher in the Qalambaaz Screenwriting Mentoring Program (Pakistan).
***