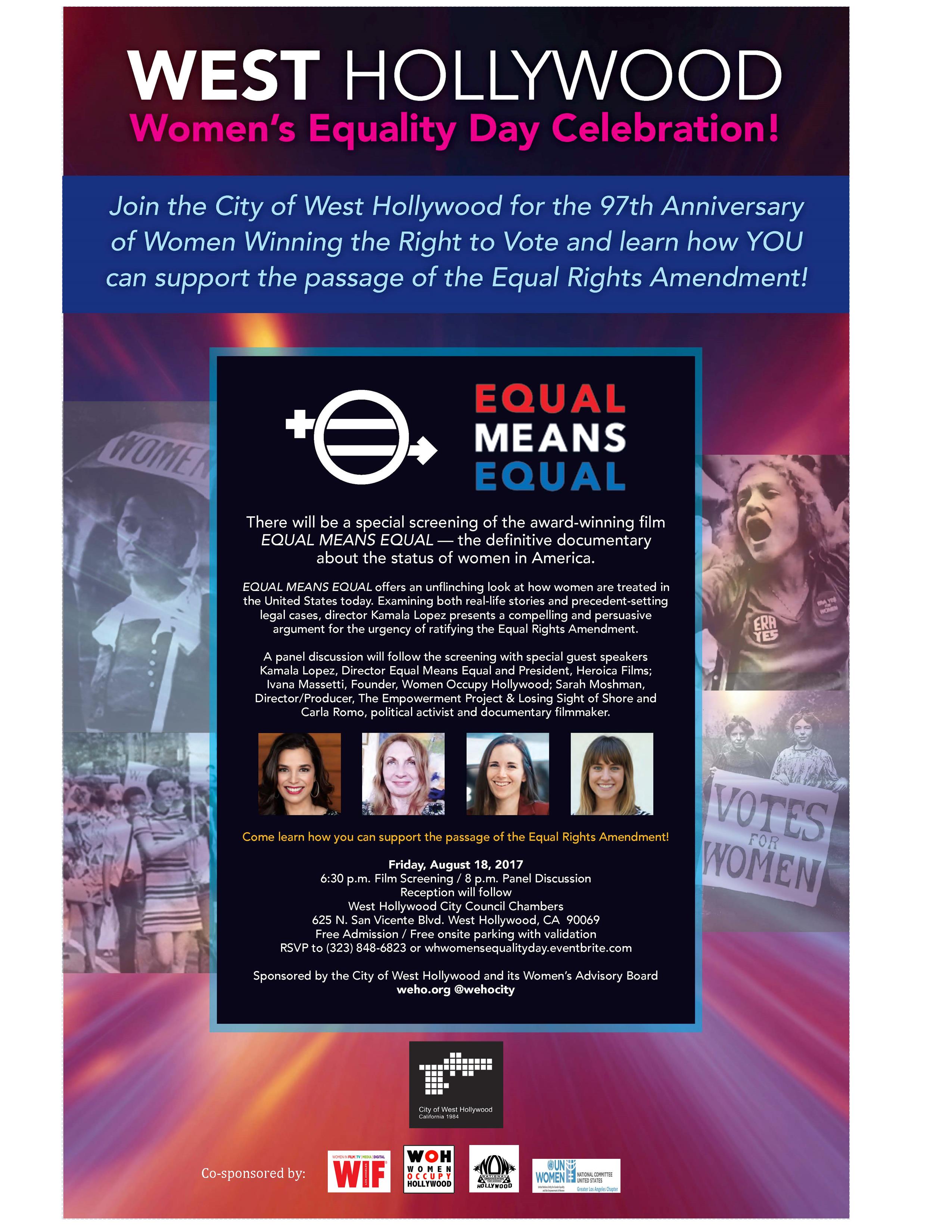 WEHO Women's Equality Day – 8/18/17
Speech by Ivana Massetti
writer-director-producer & Women Occupy Hollywood Founder
Tonight we are celebrating the anniversary of the ratification of the 19th amendment, which grants women the right to vote.
Thank you to the City of WEHO for giving us the opportunity to get together and watch the important film Equal Means Equal, by the director/activist Kamala Lopez.
Let these words sink in.
Equal Means Equal
In the United States of America, WOMEN ARE NOT GUARANTEED EQUAL RIGHTS by the Constitution.
As you saw in the film, the ERA did pass in 35 States, now 36.
For the first time since 1979, one more state, NEVADA, on March 22nd of this year, ratified the ERA, leaving us with just 2 States to go for the 38 States needed. We are now only two states short of constitutional equality for women.
We are here tonight to talk about the State of Women in America, the profound inequality that plagues women in this country, and the urgent need to pass the ERA.
The ERA grants Equal Rights to Women in America, and states:
"Equality of rights under the law shall not be denied or abridged by the United States or
by any State on account of SEX."
We are here tonight to celebrate, but we are also here to say enough is enough.
We want the Equal Rights Amendment ratified.
Tonight, getting together is a call to action.
Tonight we state together "Equal Means Equal".
My name is Ivana Massetti and I'm the founder of Women Occupy Hollywood. I'm a writer-director-producer of films and television.
I was always a feminist and an activist, but I decided to do more for women when I witnessed and experienced first-hand the cruel gender inequality that plagues the movie and TV industry in Hollywood, where Women are nearly completely absent from the cultural NARRATIVE.
Only 4% of the top 1,114 Hollywood films over the past 10 years were directed by women, despite the fact that 50% of film school graduates are WOMEN. In other words, there is no issue of availability or capability of women that justifies anything other than total parity.
Very few women are hired to write, direct or produce movies. And the same goes for TV shows and all other content. So women's voices are excluded from the cultural narrative of this country. Women's voices are silenced by a white male-dominated system.
This is UNACCEPTABLE.
The position of WOMEN in the ENTERTAINMENT INDUSTRY reflects women's lack of constitutionally guaranteed Equal Rights in this country. Our fight is a common FIGHT with the rest of AMERICAN WOMEN.
When I discovered two years ago that in America women don't have Equal Rights guaranteed by the Constitution, I couldn't believe that that was true.
Then I started to investigate that, because I thought that this could be the real reason for the lack of gender equality in the entertainment industry and in every other field in America.
Two years ago I understood that fighting for the ERA was my battle as a writer-director-producer and as a woman.
So I created Women Occupy Hollywood to fight for gender equality, to promote women's voices in the entertainment industry, to occupy our rightful place in Hollywood and beyond, to create an alternative to the present male-dominated industry model.
The goal of Women Occupy Hollywood is to be a space where women can develop, write, direct, produce and distribute their own projects.
The ratification of the ERA is one of WOH's main goals.
I believe that without Equal Rights for women guaranteed by the constitution we can't change, we can't redefine women's place in the industry and in the entire society in America.
MEN and WOMEN must be treated EQUALLY under the Constitution. This is the foundation of any truly civilized democratic society.

Again, Equal Means Equal.
96% of the U.S. population is under the illusion that, with laws like Title VII, Title IX, the 14th Amendment, America has already granted women equal rights in the Constitution. But that is not true. These laws offer women a narrow set of protections, not the broader protection that fully guarantees women equal treatment under the law.
That's the reason why we need to pass the ERA.
This moment we live in is a pivotal moment.
This moment is a moment of enormous inequality, a moment where everything is precarious, fragile. It's a moment where several Constitutional freedoms are in question.
This specific moment is the time for equality.
This is the time to stand up for what is right, for what is just, for the rights of women in Hollywood and all over America.
This is the time to act, to disrupt, to protest, to run for office, and to vote.
This is the time to vote for our people, to defend our tribe. This is the time to vote for politicians who care about equality, for politicians who care about women.
We, individually, can change history. With our actions. With our vote. In this new cycle of elections we have to get out and vote.
We have to get out and say out loud: Our Vote is going to Equality!
Enough is enough.
Because Equal Means Equal
This Event was co-sponsored by Women Occupy Hollywood